THUNDER BAY -- Social and environmental groups in Thunder Bay are accusing the Northwestern Ontario Municipal Association of putting the cart before the horse when it comes to speaking for their constituents.
From support for the TransCanada Energy East Pipeline to opposition to Ontario's anti-SLAPP legislation, they argue NOMA's decision-making process is more accountable to industrial interests than it is to the region's municipal councils.
"I understand municipalities have a great interest in finding employment for their citizens or working with different groups who may be able to provide employment," said Ruth Cook, the chair of the Council of Canadians' Thunder Bay chapter.
"But to have politicians who are totally supportive of a particular corporation says to me that they are not applying any critical thinking to what those corporations are offering to their communities and aren't able to make unbiased political decisions."
NOMA passed a resolution supporting the Energy East Pipeline a year ago. NOMA president and Kenora Mayor Dave Canfield then failed to pass that same resolution through his own City Council. Although Thunder Bay Coun. and NOMA executive representative Iain Angus is endorsing Energy East on its website, Thunder Bay Council deferred its resolution opposing the pipeline in August.
In May, Canfield's council deferred a resolution that called for environmental organizations to "cease and desist all campaigns targeting consumers of renewable forest products sustainably harvested from Ontario's Boreal Forest region..."
Canfield brought the same resolution to the NOMA spring meeting weeks later and it passed. When Kenora eventually passed the resolution, the term "cease and desist" was removed.
Although Ontario Nature is not involved in campaigns that target paper companies, the environmental group is among those listed in NOMA's resolution.
Thunder Bay-based Ontario Nature Boreal program manager Julee Boan pointed out TransCanada was able to respond to her council deputation on its pipeline proposal but she had no explanation or recourse when NOMA condemned her organization.
"There was never any evidence presented to me about what it was we were doing specifically that they wanted us to stop doing," she said.
"When the TransCanada issue came and we had a deputation, our municipality allowed TransCanada Pipelines to make a deputation at the eleventh hour in their defence to our position. When my organization was targeted in a NOMA resolution, there was no opportunity to speak to them about what we were doing."
The "cease and desist" resolution never appeared before Atikokan Council but on Sept. 24, the municipality paid expenses for its Mayor Dennis Brown to appear before Queen's Park's Committee on Ontario's proposed anti-SLAPP legislation.
Speaking on NOMA's behalf, Brown unsuccessfully argued for wording in Bill 52 to clarify "public interest" and that the law claiming to protect free speech rights from frivolous slander lawsuits should only apply to organizations whose budgets are under $100,000 per year. That would have effectively eliminated the environmental NGO sector from the law's protection.
"They're using those past resolutions as support from the North at large," Boan argued.
"They're using them to move forward a political agenda in Queen's Park to make a statement, as if the support is coming from the constituents when the constituents haven't even discussed the issues. That's the other part of this that makes it even more insidious. Who are you representing?"
NOMA mandate comes from Districts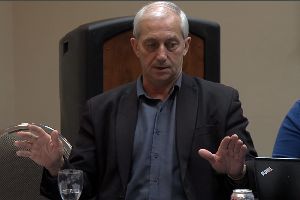 Canfield said NOMA resolutions tend to be introduced through one of the region's four District Municipal Leagues, not in the councils' chambers. There are rare and emergency cases where NOMA considers municipal resolutions but beyond appointing elected members to the NOMA's board, the municipalities have no formal role in the regional body's decisions.
Canfield pointed out the Council of Canadians and Ontario Nature ideologically oppose NOMA's resolutions, arguing the activists' only recourse is attacking the process.
"They're disgruntled if something goes through and they don't agree with it. It's typical," Canfield said.
"If they don't agree with your stance on something, they're obviously trying to criticize the way you do things because that's all they have."
The NOMA president called the extractive industries "the backbone of our economy," arguing the resolutions support industry in Northwestern Ontario.
"We're not supporting, per say, a certain company. We're supporting the social fabric of our communities," he said.
"The company means nothing to me. They just hpapen to be the people running the mill in your community. It's protecting the economy for our municipalities. That's what NOMA should be doing and that's what we're expected to do."