THUNDER BAY – Award-winning architects will design the new waterfront art gallery while a familiar face oversees the project.
The Thunder Bay Art Gallery's three-year architect selection process ended in granting the contract to Vancouver's Patkau Architects, which beat out 13 firms from all over the world.

Architect John Patkau is a member of the Order of Canada who, along with Patricia Patkau, has won 80 awards including 15 Governor General Awards.
John told the crowd at a Thursday morning press conference that he's anxious and excited to create a building that will resonate with the local and cultural landscape in a community of this size and natural beauty.

"The circumstances of the project are spectacular," he said.
"We've been very fortunate to work on many natural and urban sites, especially in British Columbia but to say, there is no site that is more spectacular than this one."


Brook McIlroy Architects principal architect Calvin Brook will oversee the project.

Brook has won 21 awards for his Prince Arthur's Landing designs, including the Baggage Building Art Centre, the Water Park Pavilion, Mariners Hall, and the Spirit Garden. He expressed a ringing endorsement for the architects, based on their decorated history of art gallery design.

"I know that the Pakhaus will come up with something totally unique but what they're great at is being immersed in the spirit of a place and the people who live there and being able to interpret that in a contemporary architectural form that will be unlike anything you've ever seen before. All their projects are like that," Brook said.

Brook envisages a shift in the harbourfront's landscape as the second development phase will be decidedly more natural than the first. The art gallery, he said, will be built on its trailhead in Tugboat Bay.

"It's a more park-like setting but a parkland that has a little bit of wildness to its character; a really natural environment, juxtaposed with these remnants of industrial heritage that are there, which we think are really magical," he said.

"This idea that these old structures are being occupied by nature, if you go out to some of the old dock structures in Pool 6, you see that happening. The art gallery is the transition where that occurs."

The announcement came a week after the federal, provincial, and municipal governments announced a shared $2.2 million for the gallery's design phase.

Art gallery director Sharon Godwin is looking forward to being engaged in the expedited design process, which is expected to produce blueprints in the fall. The new gallery could open its doors as early as 2019.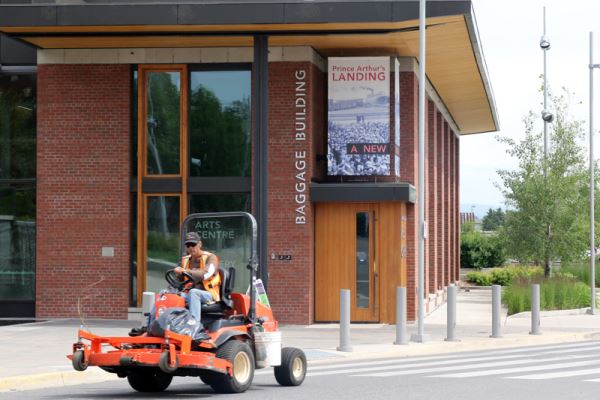 "The gallery board of directors and staff will be very, very involved in all of these steps -- all of the design -- as they've all been to get us to this point," she said.

"We will probably drive the architect a bit crazy because we do want to be intimately involved in the decisions around the building. That's our responsibility to this community."

The architects and gallery staff will meet with local Indigenous stakeholders on Friday to consider culturally sensitive design.