THUNDER BAY -- Ma-Nee Chacaby wasn't prepared for the harassment and violence she'd face after coming out unexpectedly to a Thunder Bay Television news reporter nearly 30 years ago.
"I had a real rough time," Chacaby said, recalling the assaults and threats that targeted her after the public knew she was a lesbian.
A recovering addict, Chacaby found support for her sobriety from Alcoholics Anonymous. After probing the group's members about their thoughts on homosexuality, she realised their support had limits.
Chacaby found true acceptance from a local gay and lesbian AA group.
That support group was preparing to celebrate its one-year anniversary in 1988 and had plans to rent the Welcome Ship, a Lake Superior tour boat. The group's request was refused because they were an openly gay and lesbian organization.
A protest followed and that was when Chacaby found herself in front of a television news camera.
"I got beat up for being that person. I lost many friends but I just sort of let it go after that and made a decision that someday, I'm going to write this out because nothing is changing."
Chacaby did just that, and her life's struggles and triumphs are now documented in A Two-Spirit Journey: The Autobiography of a Lesbian Ojibwa-Cree Elder, published by the University of Manitoba Press.
"You can't just run away and hide," she said. "Living and hiding in a closet … you may as well go die."
Coming out isn't where Chacaby's story begins, nor is it the only hardship she's faced and overcome. Throughout A Two-Spirit Journey, co-authored by Mary Louisa Plummer, Chacaby tells the story of a life riddled with abuse and tragedy.
Readers first meet the author as a child in a remote Ojibwa community of Ombabika, situated north of Lake Nipigon. It is a setting ripe with alcoholism and violence and Chacaby recalls being the victim of emotional, physical and sexual abuse at the hands of numerous adults.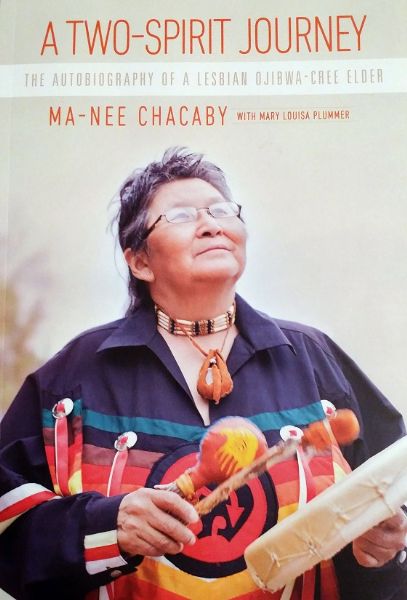 Surrounded by tragedy, Chacaby also serves as a witness to the suffering of others. That includes the infamous Sixties Scoop, which Chacaby was only spared from because she happened to be hunting with her stepfather while other children were being taken and forced into residential schools.
Tragedy and abuse follow Chacaby throughout A Two-Spirit Journey from childhood to adulthood and from her home community of Ombabika to Winnipeg and Thunder Bay.
A Two-Spirit Journey is a raw and emotional story that doesn't just show readers the author's scars. Chacaby bares all in an honest telling of her life that includes flaws, like her struggles with substance abuse and a sometimes rocky path to sobriety
Despite the turmoil, the autobiography does have its uplifting moments and characters.
Heartwarming stories of childhood friendships, and most importantly a powerful relationship between the author and her grandmother, weave feelings of optimism and hope into a life that is oftentimes surrounded by darkness.
Chacaby's grandmother, Leliilah, one of the first people the reader meets, becomes an important role model and guide for the author throughout the story.
Long before Chacaby was able to understand her sexuality, her grandmother explained to her the concept of being two-spirited. A man or woman, she was told, could be born with both the spirit of a man and woman within them.
Homosexuality was not widely accepted when Chacaby grew up, but Leliilah's teachings did include a time when the two-spirited person was an important member of the community.
"There was no backlash," Chacaby said during her recent book launch at the Thunder Bay Art Gallery. "(Two-spirited people) had different jobs, special jobs. Some were parents to orphaned children."
The reach of Chacaby's autobiography isn't exclusive to gay rights. It's filled with important historical context, deals with the struggles of addiction, physical and sexual abuse, and racism.
A Two-Spirit Journey is an important story for the local LGBTQ community. Its settings make it a story that hits close to home both literally and emotionally.
While coming out in Thunder Bay in 1988 was met with severe backlash, Chacaby's life led her to a redemption of sorts in 2011.
"What I've seen over the years is First Nations people coming out and being themselves right here in Thunder Bay," she said. "They're not worrying, they're just being proud of who they are."
The fight isn't over, Chacaby quickly added. Despite the progress that has been made, First Nations and the LGBTQ continue to face challenges in Thunder Bay and abroad, including violence.
"They keep on standing up," she said. "They keep on doing what they need to do to make this place safer."

To learn more about A Two-Spirit Journey, visit the University of Manitoba Press online here.