NESKANTAGA -- The federal government is making a priority of ending the longest-standing boil-water advisory in Canada.

Dozens of Neskantaga First Nation children holding signs greeted Minister of Indigenous and Northern Affairs Carolyn Bennett when she landed there on Wednesday evening.

While the signs appealed to the remote community's diverse and serious health concerns including housing and health supports, they most pertinently called for an end to Neskantaga's 21-year boil-water advisory.

On that matter, Bennett was prepared to deliver.

"We're going to deal with this water thing," she told the crowd gathered at the community hall.

"We've now got $8.4-billion in the platform that together with your chief and grand chief we're going to figure out how to do this fairly."

Two days before her arrival, Bennett's ministry granted $411,000 for the design phase of Neskantaga's water treatment plant. That came three years after a federally funded feasibility study deemed the project worthwhile.

The Liberal government's first Speech From The Throne committed to end all boil-water advisories in First Nations across Canada in only five years. With that in mind, Bennett promised a combination of diligence and urgency as she announced she was looking forward to the project's development within the year.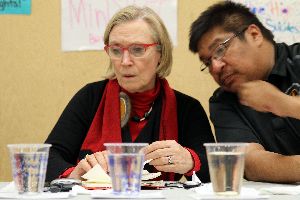 "I'm pleased we can get on with the design phase and pleased the community thinks that can be done by the early fall. I'm pleased that by the ice road next winter, they'll be able to bring up the materials that they need," she said.

"Obviously, it's about getting the right design so there's always a negotiation in terms of making sure we're following the science and the best possible approach but that's what we're hoping for."

Bennett stressed information and skill sharing between First Nations will be essential to achieving the five-year goal.

Doreen Moonias and her daughter Jocelyn Shewaybick spoke publicly to the minister on the difficulties Neskantaga residents face due to their inadequate water supply.
Shewaybick has eczema, which makes her skin succeptible to rashes and inflamation. Her skin itches but bathing in the water makes it worse. Skin creams in excess of $100 have helped Shewaybick's skin to recover but the cost to her family is unsustainable.

Moonias gave Bennett photos showing Shewaybick's badly damaged skin as Moonias pleaded with the minister to help her family.

"We need good running water to drink, to bathe and do our laundry," Moonias said.
"When we have to do our laundry, it comes form the water plant and that water's no good to do our laundry and our personal hygiene. We really, really, really need a new water plant so no other people in this community should have to go through this in the future."

"Just tell me what you need," Bennett asked Shewaybick. "I want to hear it in your voice."

"I need a new water plant," the girl said shyly into the microphone.

A wave of applause swept over the crowd.