The loss of Eabametoong First Nation's community centre to fire this month has only added to what its chief called a "crisis" of death.

Eabametoong Chief Elizabeth Atlookan was in neighbourning Neskantaga First Nation on Wednesday to follow up a Sunday conversation in person with Minister of Indigenous and Northern Affairs Carolyn Bennett.

"I'm looking forward to a beginning rather than an end," Atlookan said.

"There's a lot of media regarding the Attawapiskat situation and they have a very similar situation as our community. That's what I'm trying to do. Eabametoong is in the same situation and I'm trying to make sure the things we're fighting for are recognized."

While Health Canada supports addictions programming in Eabametoong, Atlookan sees far less emphasis on mental health supports. That has caused escalating trauma and post trauma symptoms as family members and friends attend to others, while they're also in need.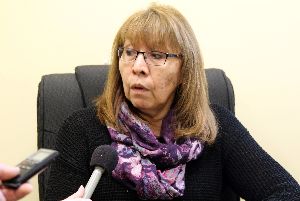 "We have small communities that go through a lot of suicides. Now we're seeing more homicides so when you're in a small community and you're related to many people and friends, you're expected to be the trauma worker. And we're in trauma ourselves. So how can you be of help to another person?"
"That's what Canada needs to understand."

Atlookan told Bennett Eabametoong is prepared to develop long term planning for a comprehensive approach to mental health but building a replacement for the lost community centre is her first step.

Although Bennett didn't make a financial commitment on Wednesday, the minister agreed the community centre is a necessity.

"It's imperative that communities have a place to gather," Bennett said.

"This is a big, cold country and people have to have a place to gather in order to build community. We hope we can help the chief with the short, medium and long term goals for her community."