THUNDER BAY -- An empty set of soccer fields in the city's north side is about to be transformed into an urban agricultural site.

The goal of the project, to be paid for with more than $300,000 supplied by several different organizations, is to provide a place for young adults to learn about leadership and employment skills in a variety of ways, including bee keeping, gardening and raising rabbits.

"Nothing instills a strong work ethic in young people better than agricultural work," said Julie Rosenthal, a former farmer from Murillo and now the lead facilitator with Roots to Harvest, who has partnered with the City of Thunder Bay to launch the ambitious project.

Developed by Stuart Oke, the site plan for the vacant lands next to the Volunteer Pool was officially unveiled to the public on Monday night, informing them of the benefits for the local community and shown how they can get involved.

The program is targeting people between 18 and 30 who have experienced barriers to finding employment.

It consists of five-month paid internships that will teach participants to work as a team, take initiative and build long-term employment opportunities.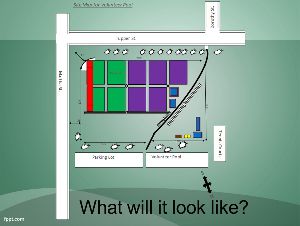 "This model stems from the success of the other Roots to Harvest programs throughout the city, including the urban garden site at Cornwall Avenue and Algoma Street," Rosenthal said.

Funding was drawn from a number of sources, including the Ontario Trillium Foundation, the Agricultural Adaptation Council, the LUSH Charity Pot Foundation, Fiskars and a number of private donors.

Partnerships with the ASAP program at Kiigenomaga Kikenjigewen Employment and Training Services, Fort William First Nation and YES Employment Services will serve as the backbone for funding participant wages during the five-month internships.

"This partnership with Roots to Harvest is a great opportunity to explore how urban parks can become more productive environments," said Werner Schwar, the city's supervistor of parks and open-space planning.

"When the project gets underway, it will give both deserving young adults and members of the community an opportunity to transform an underutilized space into hundreds of square metres of productive vegetable gardens."