THUNDER BAY -- A modeling art project beginning this week could grow into an open-ended reflection on Thunder Bay's dreams and reality.

The Four Lands project launch on Monday kicked off a week-long residency in which Toronto and local artists will facilitate creative works on what the city is and what it can become.

Models will be constructed illustrating Thunder Bay including it's upsides (good lands), it's downsides (bad lands) what it once was (lost lands) and what participants hope it will become (dream lands).

Toronto-based artistic director for Jumblies Theatre Ruth Howard has facilitated similar projects in small towns, First Nations communities and neighbourhoods in larger centres. Some of those have helped to develop art movements and networks among people who may not have met each other otherwise. Its longest-lasting model is still growing after 15 years.

"Sometimes being from the outside is helpful," Howard said.

"I really don't know Thunder Bay very well so I can honestly say, 'tell me about this place.' When I'm saying 'what do you like? What don't you like? What are the challenges? What would you like to change?' that's a real question because it's not my place. That can allow a conversation that might be different and fresh from the people are here."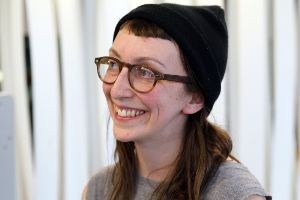 Community Arts and Heritage Education Project executive director Alana Forslund is leading the effort locally. She intends to display the product of this week's efforts in a new Victoriaville Mall space CAHEP has rented so the visioning effort can continue in perpetuity.

For the moment, the project is a blank slate. The layers added by Sunday afternoon's wrap-up at the Baggage Building will include the model as well as poetry, theatre and other forms of visual art. Forslund is reaching out for public engagement.

"We're really excited. We don't know exactly what will happen. It will depend on who comes out and what sort of stories they share with us about their community," Forslund said.
"I think art really gives voice to people who maybe don't know how to share their stories otherwise. Whether you're a singer, a dancer or someone who can even just draw a stick figure here' s a way for you to tell your story."