THUNDER BAY -- The Thunder Bay Generating Station is back in service.

The plant, which had been idled since April 8, 2014 after it burned coal for the final time, came back on the grid Monday using advanced biomass pellets made from lumber mill sawdust.

Ontario Power Generation spokesman Neal Kelly said the conversion came in on time and on budget. OPG documents previously stated the conversion was expected to cost about $5 million.

Along with the Atikokan Generating Station, which also runs on biomass and was fired back up last September, the region now has two former coal powered plants that are still active.

"The Thunder Bay Generating Station is a pioneer in using this advanced biomass for commercial operation of a thermal power plant," Kelly said. "What it means is close to 100 per cent of the electricity that OPG produces is now from sources that are virtually free of climate change or smog causing emissions."

The advanced biomass used as fuel at the station is handled and stored in a similar manner as coal but has 75 per cent less nitrogen oxide and minimal amounts of sulphur dioxide.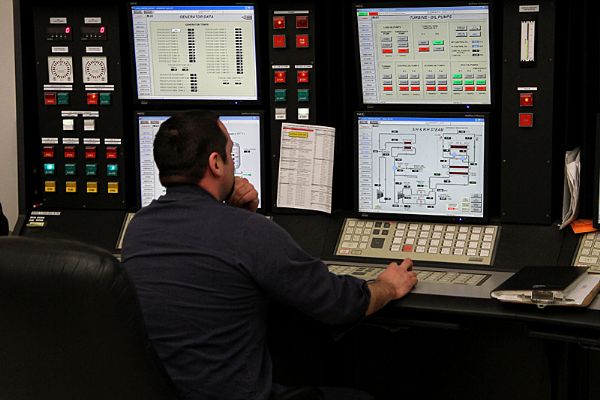 The conversion of the unit gives the plant the ability to produce up to 135 megawatts of power.

The plant will still only be used on a "dispatch" basis, only generating power when necessary.

"When power is needed in the Thunder Bay region and Northwestern Ontario the system operator will be able to call on the Thunder Bay Generating Station," Kelly said. "It's on an as needed basis."

While Common Voice Northwest Energy Task Force co-chair Iain Angus is happy to see the station have at least a guaranteed five year future, he said a lot more could be done.

The Energy Task Force was advocating for a contract with 85,000 tonnes of advanced biomass and the province countered with a proposal for 15,000 tonnes. Instead Angus said the plant is only receiving 7,500 tonnes.

He said that shows reopening the plant is primarily just a token gesture that will have a very limited purpose.

"The amount of fuel they have will really just help us out a few times a year when we're short a little bit of energy and they can crank it up. It's not a long-term solution," Angus said.

Angus still wants to see a conversion to natural gas, something that had been planned until it was halted in November 2012. The advanced biomass should only be used as a peaking fuel to enhance capacity, he added.

He said officials from both the City of Thunder Bay and Northern Ontario Municipal Association will continue to pressure the provincial government during meetings with Minister of Energy Bob Chiarelli later this month.