THUNDER BAY -- The region's on-reserve youth are poised to play a larger role in caring for Thunder Bay's aging population following an announcement that will fast track their health industry certifications.

Members of nine First Nations in the Robinson-Superior Treaty area east of Thunder Bay will be eligible for condensed programs to become Personal Support Workers and Food Services Workers at Confederation College.

The 44-position programs were designed to meet labour force needs over a six-month partnership between the college, St. Joseph's Care Group and Anishinabek Employment and Training Services.

Students will live on campus and have access to hands-on work placement during their stay, which could result in permanent employment.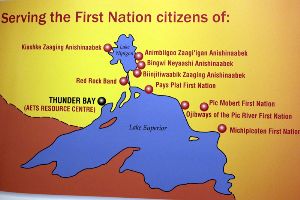 "We know St. Joe's is an employer that is seeking individuals who are qualified," said AETS executive director John Degiacomo.

"The demand for PSWs and FSWs surpassed the supply. We know the program is an option for some but with the demand and the timing, we felt a compressed version for First Nation citizens to come and get the training, to come and advance themselves in a career would be best."

St. Joseph's Care Group CEO Tracy Buckler pointed to the new Hogarth Riverview Manor as evidence Thunder Bay is responding to its aging demographics. She wants her staff to reflect its clientele as elders begin to require greater care.

"We serve many, many First Nations people within many of our programs at St. Joseph's Care Group and our number of employees that are First Nations or Aboriginal wouldn't be on par with the number f people we serve," Buckler said.

"There's a recognition of inclusion and diversity and we want to be as representative as possible in the employees that work within our organization to have an understanding of the clients we deserve and to look like Northwestern Ontario."