UPDATE: A full update regarding to re-opening of the Nipigon River Bridge can be found here.

NIPIGON -- The newly-constructed Nipigon River Bridge has split in the cold, cutting the only transportation link between Eastern and Western Canada.
The Ontario Provincial Police closed Highway 11-17 indefinitely at the bridge at 3:05 p.m. Sunday when bolts holding the girder to the bearing on an expansion joint broke on the bridge's north side.
The split caused the eastern half of the bridge to rise about two feet.
Engineers were on site Sunday evening, braving a windchill cold of -28 C to analyze the extent of the damage.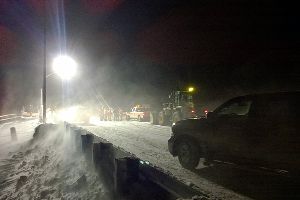 Three years of construction ended on Nov. 29, 2015 when the two westbound lanes of the new cable-stayed bridge opened to traffic.
The eastbound lanes of the old bridge have been closed for demolition as construction is set to begin on the bridge's mirror half.
Minister of Transportation Steven Del Duca released a statement at 10 p.m. expressing thanks for the patience of residents of nearby municipalities and First Nations, as well as travelers.
"I have spoken with Minister (of Northern Development and Mines) Michael Gravelle and (Nipigon) Mayor Richard Harvey and assured them that the MTO will do everything they can do to restore the bridge quickly, while also making sure that the safety of the travelling public remains of paramount importance," he said.
The first question Gravelle is asking is, what progress has been made on that demolition and whether reverting traffic to the existing bridge is a possibility. While Gravelle conceded the story is developing as quickly as he can get information, he said the province recognizes the matter as urgent.
"Clearly, this is an emergency situation," he said.
"There's no question about it. I could not be more concerned and I'm trying to find out as much as I can, as quickly as I can."
Gravelle intends to inspect the bridge personally on Monday morning.
Engineers began escorting pedestrians across the bridge around 6:30 p.m. Highway 17 traffic was turned back to Terrace Bay and commercial vehicles are being encouraged to travel west through the United States at the border crossing in Sault Ste. Marie.
Arrangements are being made to ensure ambulance and fire vehicles can cross the sunken expansion joint on metal sheeting, should emergencies arise. In the meantime, Superior-North Emergency Medical Services has coordinated a regional approach to land ambulance coverage with regional hospitals.
Nipigon Mayor Richard Harvey said no one foresaw anything like this happening. The $106-million construction slated for completion in 2017 was designed to avoid this exact situation.
"My first thought was, Canada is cut in half," he said upon seeing the state of the bridge.
"My second thought was, how can we get traffic moving as quickly as possible again?"
Harvey said Nipigon has taken every precaution, including opening its community centre and Legion for at least the next 24 hours.
"We're being told it will probably be a couple of days before traffic gets moving so we want to be sure those who are traveling are safe, so no one is stuck out in the cold," he said.
Nearby Greenstone Deputy Mayor Eric Pietsch declared a State of Emergency at 6:10 p.m. and the municipality's staff is taking measures to ensure travelers are safe.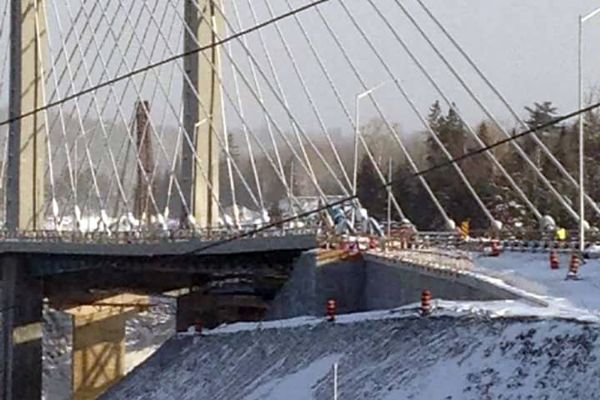 Photo by Michael Hurd (Published with permission)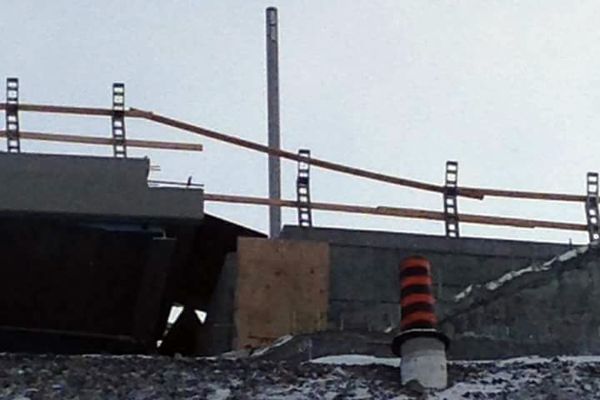 Photo by Michael Hurd (Published with permission)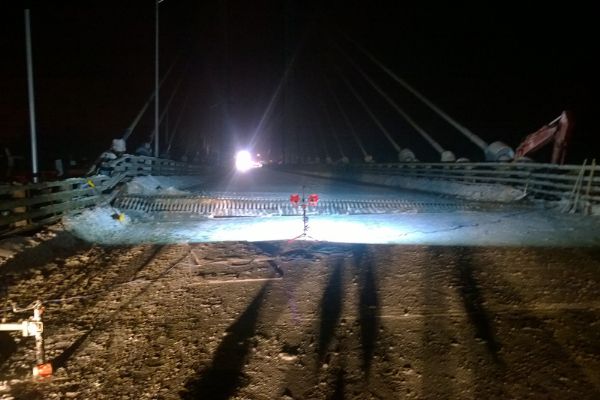 Photo by Phil Darlington, TBT News