THUNDER BAY -- A plaque was unveiled on Sunday to recognize a quarry archeologists believe was among the area's first worksites, some 9,400 years ago.

The Cummins Pre-Contact Site plaque will be placed at Hillcrest Park, which would have been the waterfront at the time glaciers were receding to reveal a tundra climate that would someday become Lake Superior's north shore.

"If you're standing at Hillcrest Park reading this (plaque) in the summer, you might look out on the lake and see the water was 150 feet higher than where it is today," said retired Ministry of Culture senior archaeologist Bill Ross.

"If you look out, the grain elevators were probably just breaking the surface of the water."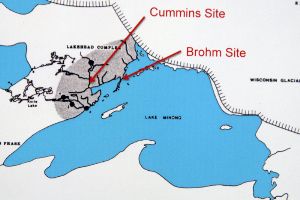 Since amateur archaeologist Hugh Cummins discovered the site in 1962, 2,000 artifacts have been discovered in the taconite stone deposit that bears his name. Tools discovered there span entire cultural eras, from flat stones used to make spears to ribbed arrowheads with notches at their base where they would be bound to arrows.

Researchers believe the iron-like vein to have been along a caribou migration route and blood testing on weapon tips has revealed the first evidence of an animal in the bison family having roamed the area.

Raw materials from the southern tip of the great lakes have also been uncovered, leading Ross to believe those working at Cummins were engaged in a far-flung trade network.

"There's raw material from southwestern Wisconsin found on the site so these people are trading," he said.

"No one is going to southern Wisconsin and picking up a piece of raw material. It's being traded – I think – through different peoples."

Ross paid homage to Cummins for the site's most valuable find of all: a human bone dated back 8,480 years. As far as he's aware, it's the oldest evidence of humans in Canada.

When Cummins discovered the site, he sent manuscripts complete with sketches to the National Museum of Canada and Lakehead University. A researcher named J.B. Wright used the document a year later to find fragments of cremated bone as he scoured bulldozed edges of a recently-constructed road.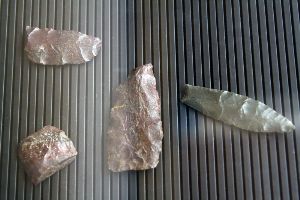 "The interesting thing is, if Hugh hadn't sent the manuscript to the national museum, J.B. Wright would not have been able to cite it in 1963 and that material would have disappeared," Ross said.

"We probably now have 40 sites within the city limits, or at least close to the city, of this age and it all started because of one amateur who did all the right things amateurs are supposed to do."

Thunder Bay-Superior North MP Patty Hajdu sees the plaque serving as a permanent reminder of the industrial sophistication and survival expertise of the area's first inhabitants.

"It provides a commemoration of our country but it allows for the future generations coming after us to really know the stories that will shape their country and have shaped their past," Hajdu said.
"I think that's an important part of any country is leaving that legacy for future generations so that there is that cultural memory, if you will."