THUNDER BAY -- Ontario is taking preliminary steps toward creating a parallel justice system for First Nations.

The province has launched a three-year, $400,000 project to assemble Indigenous knowledge-keepers and consider traditional laws supplanting Euro-Canadian law in First Nations communities.

Assistant Deputy Attorney General Kimberly Murray spoke about First Nations justice as an "inherent right to jurisdiction" at the Robinson Superior Access to Justice Forum conference at the Valhalla Inn on Tuesday.

"There are a lot of conversations that need to happen on how we unpackage what the Canadian justice system has implemented and enforced on First Nations communities," Murray said.
"How do we take down the structure that exists and put a new structure in place that was taken away with colonization?"
Murray has visited many communities that have strong knowledge of traditional law and are ready to take on elements of legal jurisdiction.
Priorities and preparedness vary among First Nations but all have committed to independent justice provision in the Political Accord signed with the province last summer.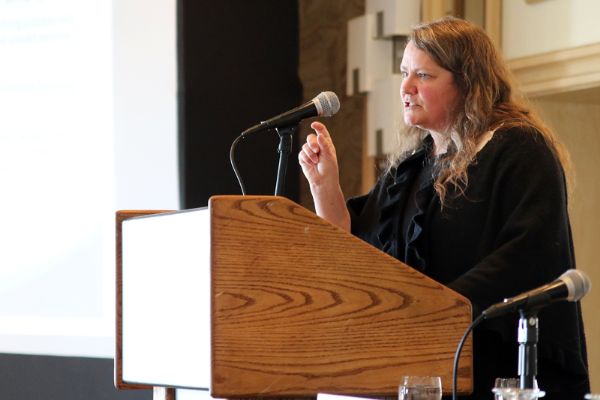 While the Attorney General's office is working within the existing legal framework to accommodate Indigenous people through hiring Gladue writers and funding court worker programs, the Aboriginal Division's new project is designed to foster culturally representative legal frameworks for First Nations communities.

"Those are on this side of the river -- the Western justice system. We're trying to help people that are in the system. We need to do the work on the other side of the river," Murray said.

"It's going to look different in different parts of the province and we need communities to determine what their priorities are… Child well-being is a high priority for a number of communities and exercise over fishing and hunting is important to a lot of the northern communities."

Gull Bay First Nation Chief Wilfred King told the crowd child welfare was his community's top priority. He pointed out there are more Indigenous children in care today than there were in the 1960s and that is part of the reason people identifying as Indigenous make up a quarter of Canada's prison inmate population.

"If you're looking at people who are incarcerated in both the federal and provincial institutions, there's a direct correlation between those inmates who were part of the child welfare system," King said.

Gull Bay is not considering adopting its own court system to try violent crime, for example, but King said sentencing circles and restorative justice initiatives can play a role in child welfare and other criminal issues that can decolonize justice.

"What's really important is for the perpetrator of the offence to become accountable for his actions," King said.

"Through the justice system when you commit a crime, you're almost devolved of your personal responsibility. You're going through a system and there's no reconciliation with your community and the victim. I think this is the difference between our justice system and the Euro-Canadian justice system is there is a reclamation process where the individual is accountable to the community as well."