Moments after she rappelled 14 storeys down one of Thunder Bay's tallest buildings, Cindi Vallencourt was still shaking a little.
"It's just a rush," she said.
"You're up high, you're dangling there over the edge of a building. It's cool."
Vallencourt was among 60 people who took part in Drop Zone, an Easter Seals fundraiser at Maplecrest Towers to buy equipment and communication devices for children with disabilities.
"There has been mixed reactions," said Rhonda Harrison, the senior development officer at Easter Seals Ontario, who tried the 150-foot drop for her first time on Friday. "Some people are nervous, very excited and then they come down with this huge sense of accomplishment. 'I did it.' We have this sign, 'I did it.'"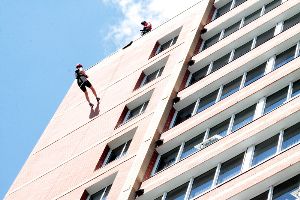 "Rappelling on a building, you get to see the entire view of Thunder Bay from such an exciting perspective," said Drop Zone volunteer Aric Fishman, who guides ice and rock climbing in the area around the city.
"It's a different experience. To be able to rapel down a building right in your city, you don't even have to travel outside to go out to the cliffs. Right here is a wonderful opportunity to see what it's about and the height is really cool here."
Although no final tallies have been taken, the effort raised $50,000 for the cause in 2014.