A two-ship race from the Sault Ste. Marie locks to become the first laker of the season to reach the Port of Thunder Bay came down to the final stretch.
The Tecumseh arrived at Richardson's Current River Terminal on Saturday at 5:10 p.m., 45 minutes before The Algoma Equinox.
Tecumseh Capt. Kevin Collard said he and his crew of 13 left the dock five hours before schedule and skies were clear across Lake Superior after the fog lifted early in the voyage.

"We didn't know we were in a race until about 24 hours before we got here and all systems were go and it seemed to work out well for us," Collard said at Monday's Top Hat ceremony, the annual award for the spring's first ship.

"The ship moves at the same speed and we move a little quicker inside. There's not a lot you can do because we always maximize our efficiencies but everything's exciting if you're in a competition."

Although another captain led The Tecumseh in 2015, the crew picking up 20,000 tonnes of wheat and canola celebrated its second straight year under the top hat.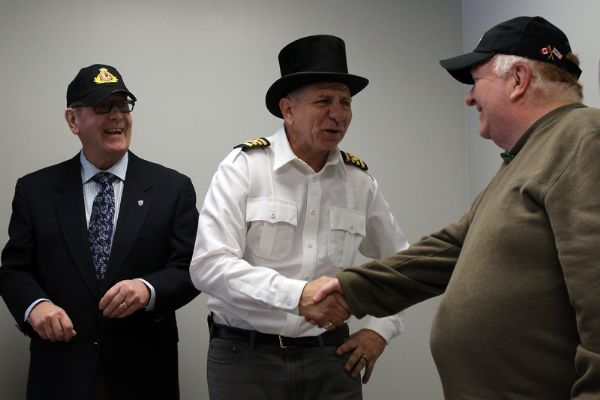 Thunder Bay Port Authority harbourmaster Guy Jarvis has seen tighter races but he said the early ice breakup bodes well for the season ahead.
The first "salty" ocean ship of the season is expected to dock in the coming days, which could break the Mar. 30 record as the earliest ever.

"It's going to be nip and tuck," Jarvis said.

"We're hopeful it will get here late tomorrow and be on the dock by Wednesday evening. If that's the case, it will be a record. It all depends on the timing of the ships that are coming to the elevators. We do have a few ships at Richardson's which have to be offloaded prior to loading up the salties."

Last year was the port's busiest since 2000, in which the grain elevators hosted some eight million tonnes of grain. Jarvis credited a longer shipping season and port diversification for the increased traffic.

"Keefer Terminal within the next few weeks will be exporting a huge crane overseas as well we're going to be getting windmill parts and steel parts so there's diversification in the port that's happening and that's really exciting," he said.

Coun. Larry Hebert pointed out potash and wind energy components have been added to the traditional grain and canola storage. He said the municipality is encouraging even further diversification through private sector development.

"It's necessary to me," Hebert said.

"The whole business of the port speaks to the economic activity and health of Thunder Bay. If the port is diverse, if for example, it's not as good of a grain year, other products will make up for it."