THUNDER BAY – As Jari Leinonen points out, all holidays are at least partially rooted in fiction.
So it should be no surprise that a significant portion of Thunder Bay celebrates the unlikely, and completely untrue, tale of a valiant hero saving Finland's grape crop from a nefarious grasshopper.
"I think most holidays are like that, aren't they? I mean, what's a real legitimate holiday," Leinonen said Saturday during St. Urho's Day festivities.
"This is just a reason to party, be Finnish and share that with the whole community."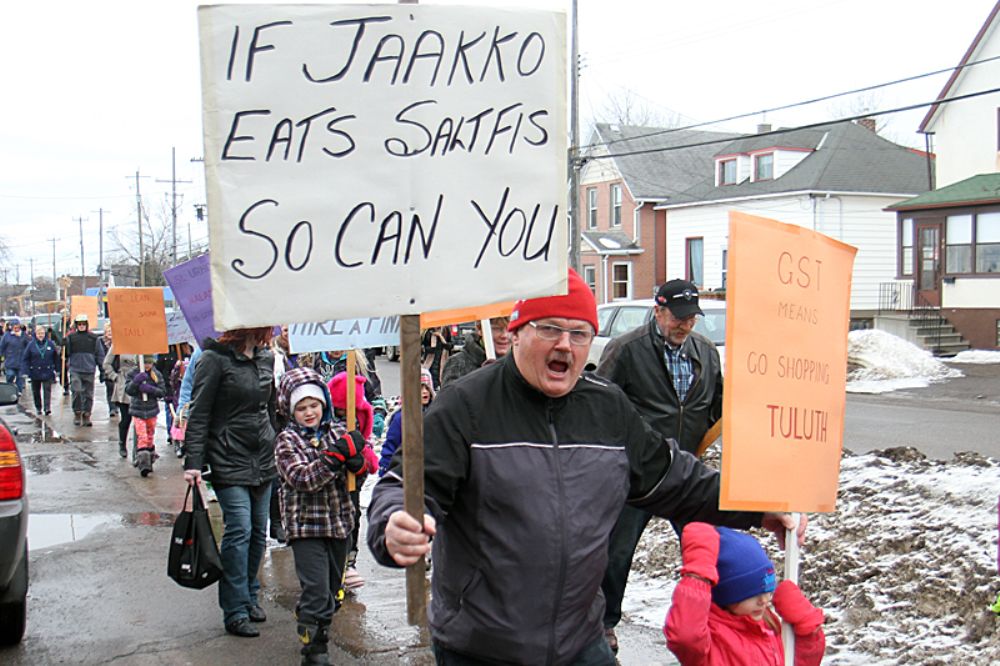 This year marks the 33rd annual celebration of St. Urho's Day in the city. The holiday recognizes the triumph of the mythical patron saint of Finland, a satirical take on the popular Irish holiday of St. Patrick's Day.
The highlight of the festivities is the parade around the Bay and Algoma district, which is led by the triumphant hero as the evil grasshopper is draped around a pole and carried through the adjacent streets.
Mikko Kormano was awarded with the duty of portraying St. Urho, a role he proudly accepted.
"It brings everybody together and builds a lot of awareness. I just love how the tradition started," Kormano said.
The roots of St. Urho's Day traces back to northern Minnesota in the 1950s, where it was first celebrated.
With Thunder Bay's vibrant Finnish history, the holiday became a natural fit and draws hundreds of people.
After the parade the celebrations get underway inside the Finlandia Club, where there is music and dancing along with traditional Finnish fare.
"I think it's great that it's taken off. We're really happy with the turnout and the community has really responded," Leionen said.
For at least one more year, Finland's grapes remain safe.