THUNDER BAY -- Although Nishnawbe-Aski Nation has yet to outline requests to abate a state of emergency it declared last month, the plan it will create already has the support of Ontario's NDP.

Following meetings with NAN on Friday, NDP Leader Andrea Horwath committed to being a loud voice at Queen's Park on behalf of initiatives that will end the state of emergency in the 33 communities served by the Sioux Lookout Health Authority.

"We're going to go back to the Legislature at Queen's Park and we're going to listen to the solutions that the leadership comes up with in terms of their action plan," Horwath said, flanked by Kenora-Rainy River MPP Sarah Campbell.

"As I committed to them, I' m going to do everything I can and so will MPP Campbell to be strong and vocal advocates for the solutions they want to see occur in their communities."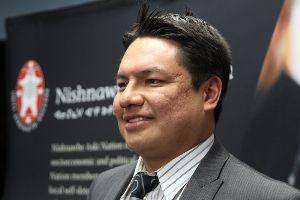 Derek Fox has lost two friends to what he sees as weaknesses in the Far North's health system over the six months since he was elected NAN's Deputy Chief. Fox said it's time to take action.

"This is an ongoing crisis that has been her for years and it's not getting better. It's getting worse," Fox said.

"It's extremely frustrating because we just lost someone to suicide yesterday. I've heard some officials saying it's an issue that can wait and it's not. It's frustrating because we continue to lose people to a poor health care system, suicides, it's a vast range of issues."

Doctors and First Nations representatives told Horwath stories of running out of equipment -- including oxygen and morphine -- and a man who pulled his own tooth because no service was available for him.

Kitchenuhmaykoosib Inninuwug Chief James Cutfeet was employed with the public service but to get benefits related to optometry, dental and chiropractic care, he had to wait until he came to Thunder Bay on business.

He became personally involved with an elder admitted to the nursing station who was sent home overnight due to crowding and when he eventually made his way to the Meno Ya Win Hospital in Sioux Lookout, he was found to have suffered two broken ribs and was bleeding internally.

Cutfeet said the nursing station would need six nurses to operate properly, double its current staffing complement. KI's suboxone clinic is in a similar situation but Council is subsidizing the service with program dollars because of its proven track record in decreasing crime.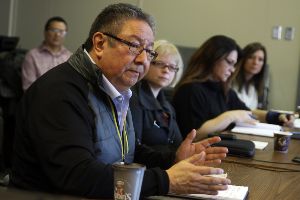 All combined, Cutfeet sees clear disparity between on and off-reserve services.

"I think it's time we really examined and compared the availability of health services on and off reserve and really tried to bring them up to par," Cutfeet said.

"What we have done in the last few weeks is we've declared a medical emergency a public health emergency the issues were' trying to convey today have existed for decades. Those are the ones we're trying to let the can public understand."
A meeting has been scheduled between NAN and Minister of Health and Long Term Care Eric Hoskins. In a statement he issued on Friday afternoon, Hoskins said the Liberal government is committed to "improving access to equitable health care for Indigenous people" within the context of the Political Accord.

"Our government will be working with our federal partners to address their valid concerns outlined in their call for action," Hoskins wrote in his statement.

"We are on a positive path forward with respect to health service delivery transformation and we will be developing an action plan to address issues raised in the declaration."