THUNDER BAY -- A Lakehead University Anthropology professor is trying to solve the mystery behind the rocks at the bottom of Boulevard Lake.
Scott Hamilton led a drone photography mission over what he called "The Ring" when the lake was drained last September, producing the best-ever overhead view of the stone formation.

It shows a human-made 'C' shape that measures 24 metres in diameter, formed from stones as large as 70 centimetres across.

"You can imagine, we were kind of surprised and we were pretty excited, then increasingly confused, trying to figure out 'what is it' and how in the world we would ever come up with an answer," he said.

"I think people have known about it for some time and I think it has been part of the oral history of greater Thunder Bay that there's something hinky under the waters at Boulevard Lake."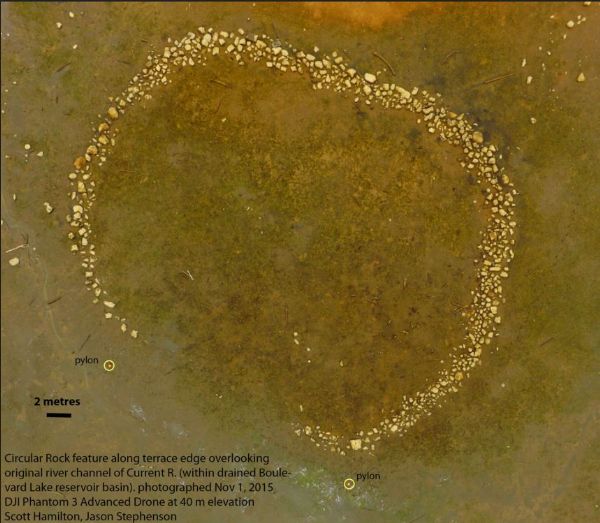 That lack of answers is not without speculation. Urban legend mythologizes it as some sort of late-night prank but Hamilton believes the effort needed to construct it would have far-exceeded the reward.

Some have suggested The Ring may be a fish trap built before the 1907 dam. He doubts that because it's perched on the highest terrace edge above where the riverbank would have been.

Considering it might be a ceremonial or gathering place near the spawning bed above the waterfall, Hamilton is considering it may have been built prior to European contact.

"One approach might be trying to get a radiocarbon date from some of the organic materials that underlie the rock," he said.

"If it's very old, that would certainly help. If it's sometime in the last 200 or 300 years, that won't help very much.
"Given my interpretation that it predates the dam, it's probably some time before the settlement of Prince Arthur's landing really became developed. That would certainly suggest it's of indigenous origin."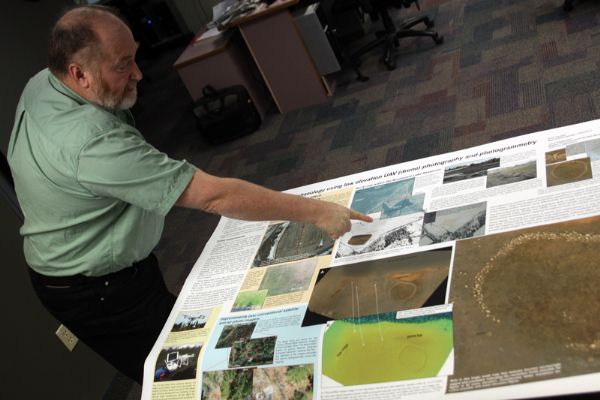 Hamilton's first step is reaching out to the public for clues.

"Right now, we're just trying to collect ideas and memories about how long people remember it, what they think it might be, what stories they've heard from their elders about who built it and when."

Hamilton can be reached at shamilto@lakeheadu.ca or by calling the switchboard at Lakehead University. A poster of his topography will be featured at Intercity Mall on Mar. 5 for Research & Innovation Week.