THUNDER BAY -- One in 10 older homes have lead concentrations in their tap water that exceeds the legal limit but the city believes it has the solution.
In December, its environment division will begin a pilot project to add a small amount of sodium hydroxide into the water system of 600 Current River residences.
Of the 30,000 homes connected to the municipal waterworks, 8,000 were constructed prior to 1950 and most of those draw water through lead or copper pipes on private property.
Environmental planning and research analyst Erin Marcellla-Fui said since the province mandated all cities to develop Corrosion Control Plans in 2007, sample testing of those older homes has shown 10 per cent have more than the legal maximum lead levels of 10 parts per billion.
Current River was chosen as the pilot site because it's the smallest pressure zone that has a high concentration of older homes.
Cities like Hamilton, Sault Ste. Marie and London, Ontario have found adding the sodium hydroxide to drinking water has decreased lead content from pipe erosion while not impacting the water's odour or taste.
"Absolutely, it's safe," Marcella-Fui said.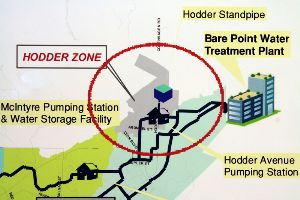 "Sodium hydroxide used in a certain concentration, is absolutely approved and safe."
Lake Superior's pH level at the Bare Point Water Treatment Plant is already relatively high, she pointed out. That makes sodium hydroxide an ideal chemical to increase the alkalinity only slightly.
"If it's successful in reducing the amount of lead leaching into the drinking water and does not compromise our disinfection process, it will be city-wide," Marcella-Fui said, adding that expansion is planned for late 2016.
The city's chemist will attend an open house at the Current River Community Centre on Thursday between 6 p.m. and 8 p.m. to address community questions and concerns.