It may have been a hockey event, but for many it was a second coming home for breakout musician Coleman Hell.

The Thunder Bay singer took the stage on Sunday at Prince Arthur's Landing and the Rogers Hometown Hockey event stood still – well, OK, there was a lot of dancing going on.

Hell, whose song 2 Heads has been streamed more than 50 million times, didn't disappoint, less than two weeks after a heroic return to Thunder Bay with an instantly-sold-out show at Crocs.

He admitted he wasn't much of a hockey player growing up.

"I never learned to skate, but I'm right here with you," he shouted to the masses. "I'm more of a watcher."

The blistering, snow-filled performance was just what the audience was seeking.

Abbi Sprakes brought her daughter to the show and loved every second of it.

"I thought the show was dynamic. It was so much fun and great to have a Thunder Bay boy back to be a part of this whole weekend."

Elizabeth Plater was also enthralled at the half-hour set, one of three the musician and his band put on during the course of the afternoon and early evening.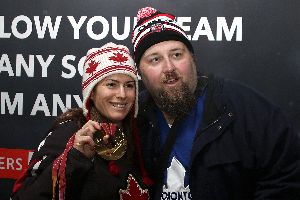 The youngster also had a special connection to Hell, who happens to be her cousin.

"I thought it was really exciting and I thought the show was really good," she said, fresh from a front-row viewing.

"I liked that he wasn't just standing in one spot. He was moving around and getting everyone all excited."

The Hometown event was just awesome, she added.

"It's a good idea," Elizabeth said.

Akira Sprakes, Abbi's daughter, agreed.

"They got the camera and got us all in (the shot) and also Coleman Hell was just going around and singing. It was pretty cool," she said.
Hell wasn't the only hometown hero on hand.
Former Olympic gold medalist Katie Weatherston spent the afternoon posing for pictures and signing autographs.

Not originally scheduled to take part in the event, she said she contacted organizers to let them know she'd still be in town during the broadcast.

"It's been awesome," she said. "We're a very hockey-crazy town and I think we are the No. 1 hockey town in Canada. I was glad I could be a part of it because I love to come out and share the medal with the people of Thunder Bay. It's one of the most important things and one of the things I enjoy the most."