THUNDER BAY -- A year after the pineapple plant at the Centennial Botanical Conservatory bore fruit for the first time its 47-year history, a grassroots effort has grown to make the facility a top local infrastructure priority.

The Friends of the Conservatory named its first open house-styled event after that pineapple last February. Although there was no new bloom for Sunday's Afternoon In The Tropics, the movement to save the conservatory harvested a year of outreach efforts.
Over 400 visitors passed through the building on Sunday afternoon, half of which toured it over the first hour it was open.

The 2015 Afternoon In The Tropics was the catalyst for the Friends of the Conservatory to mobilize its base. The group held monthly events and expanded the building's hours. That effort attracted 1,900 visitors in its first month alone, setting a new standard for success at a facility whose future had been in doubt.

As visitor numbers skyrocketed, Friends of the Conservatory chair Kathleen Ott said donations have followed.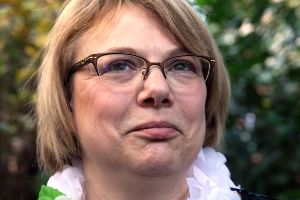 "It was a dramatic increase," Ott said.
"After our event in February, they brought in evening hours and slowly started to increase viewing hours for the general public and that has paid off leaps and bounds."

The conservatory has had no capital upgrades since it was built in 1967. It was temporarily closed in October of 2013 due to glass falling from the structure. The east and west wings remain closed due to roofing issues.

City Council has approved applications to FedNor under Canada's 150th anniversary infrastructure program that would see the conservatory rebuilt and its footprint expanded.

The proposal would build over the existing facility to preserve its existing natural collection.

"If you did a completely new building in a different location, all the collection would probably be lost. We don't want to see that. We want to see a build-over and an education space added," Ott said.

Northwood Coun. Shelby Ch'ng said she lobbied City Council to make the conservatory in her ward an infrastructure priority.

"Right now, Northwood doesn't have a community centre. There's no city-owned facility in Northwood so we don't have any place to meet," she said.

"It would be nice to merge those two together; a meeting place, education, mental health healing. It really has a need in our community and I'm really looing forward to what we can do."