THUNDER BAY -- As many as 60 cats were apprehended from a north core home on Wednesday as the Ontario Society for the Prevention of Cruelty to Animals executed a warrant on the property.
The smell of ammonia drifted all the way to the back lane of the Secord Street home when OSPCA agents entered and exited its back door.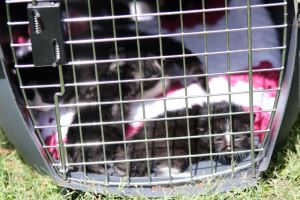 Agents evacuated dozens of cats from the house for over an hour. At least 10 kittens were apprehended, some as young as three weeks old. Many of the animals appeared to be malnourished.
Thunder Bay and District Humane Society executive director Melanie Blanchette estimated 60 cats were removed from the home.
"I've seen previous situations like this. This is by far the worst," Blanchette said.
"The conditions upon going in were very unsanitary, deplorable conditions. Standing outside the house, you can smell the ammonia levels."
The residents were not home at the time the warrant was executed. It's not yet clear whether the OSPCA will be pursuing any criminal charges.
The cats are being brought to the humane society.
This is a developing story. More information will be posted as it becomes available.