VERMILLION BAY – Warming water from climate change is beginning to encroach on the habitat of Northwestern Ontario's cold water fish.

Research conducted at the Experimental Lakes Area shows the region's temperature has warmed 0.4 C over each of the last five decades. Shorter winters are heating surface water and delaying lake trout spawning.

The runoff from increasing summer rain is causing a tea-like discolouration, affecting the water's heat distribution and compounding the change.

Added together, fish biologist Lee Hrenchuk can see consequences for aquatic ecosystems beginning to show.

While the effects aren't yet drastic, she's confident her data shows a trend toward stunted growth.

"The average size of an adult fish has been decreasing over time and we're seeing this mostly in the cold water fish species that are really dependent on having good spring periods and good fall periods where they can do a lot of eating," Hrenchuk said.

"In the summer, the water's too warm where all the food is."

Hrenchuk concluded the smaller trout tested in each of the three 30-hectare lakes is evidence of the toll warmer surface water is taking on the effort trout need to expend when they hunt.

Lake trout prefer cold, high-oxygenated water. The depths of even small lakes are low-oxygen areas and trout tend to venture into warmer surface water only when necessary.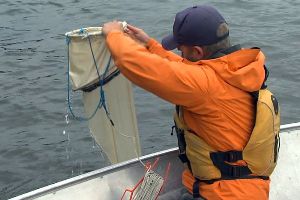 Her team has been analyzing the depths of lake trout habitat at different times of year, then checking data against corresponding oxygen and temperatures. Their conclusions are proving the heating surface is squeezing that ideal space in between.

"We're definitely finding in some of the lakes by that August/September period, there's maybe one metre of depth in the lake…that's preferable for them where they spend most of their time," she said.

"You can imagine if this warm water continued to warm deeper and crossed over with the low oxygen zone. What happens when all that habitat is gone?"