THUNDER BAY – Canada's finance minister scooped out the message on Wednesday evening that the Liberal government's plan to build a "strong middle class" includes those who aren't there yet.

A block from Simpson Street, Bill Morneau served ice cream at Ogden Community Public School as he spoke to neighbourhood residents about recent changes to child benefits that he believes will bring familes closer to the middle class.

During his address in the schoolyard, Morneau reverted to the Liberal promise on upward mobility during last summer's election campaign.

"Not only were we not growing as fast as we want to but the fruits of that growth – the positive impacts of that growth – aren't really going to people that really need it for their families," he said.

"Middle class Canadians are struggling to see the opportunity they want for their children and people who aren't yet in the middle class can't yet see how they will get a run up to get there. "

His solution for families of modest incomes is the Canada Child Benefit, whose first cheques were mailed out in July to replace three former entitlement programs. The Liberals claim nine out of 10 families with children are receiving an average of nearly $2,300 under the new system, with the greatest benefit going to those with household earnings of $30,000 or less.

The program aims to lift 300,000 Canadian children out of poverty over 2014 levels by 2017.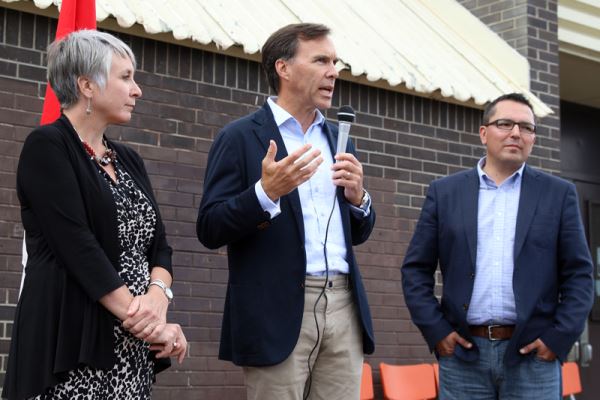 "What we're seeing is people seeing the benefit of the Canada Child Benefit that we know is going to make a material impact on their ability to raise their families, to provide the things they want for their children," Morneau said.
A Canadian Centre for Policy Alternatives report released in July shows between 10 and 15 per cent of the neighbourhood surrounding Ogden school to be "working poor," the highest percentage area in the city. According to the 2011 National Household Survey, individual median income is $24,051 per year and 75 per cent of its households are supported by a single breadwinner.
That amounts to just over half the $45,000 minimum income needed to qualify for the new federal middle class tax cut.
Thunder Bay-Rainy River MP Don Rusnak arranged for Morneau to speak with the school as a brick backdrop.
Rusnak referred to Simpson Street as locally "infamous" for its socio-economic challenges but pointed out neighbourhood residents would see significant gains from the changes to child benefits.
"It's a little bit of a depressed area but it does have younger families with lower incomes. Its an area that's affordable that familes flock to," he said.
"We do have a lot of young families here, hopefully getting up in the income bracket as we create jobs here in Thunder Bay but a lot of families here that are certainly getting helped by the child benefit."