A spectacular waterfront fire Wednesday night lit up the skies along Thunder Bay's north side.

There was little firefighters could do after the massive blaze broke out in a vacant sawmill on the Buchanan-owned former Great West Timber property on Water Street.

The entire structure was engulfed in flames, thick black smoke blanketing the rapidly darkening sky.

The structure appeared to be lost, with firefighters left to keep the fire under control as the building burnt to the ground.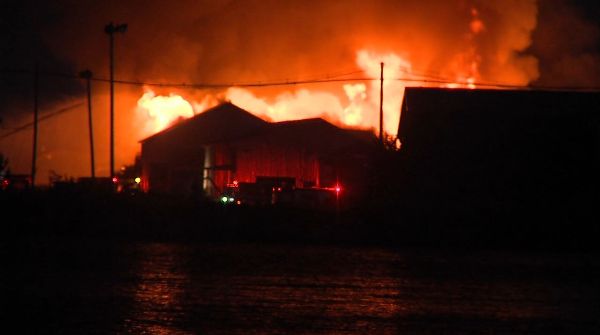 Twenty-seven firefighters, six pumpers and two aerial-ladder trucks attended the fire.

Paramedics were also on scene as a precaution.

A Thunder Bay Fire Rescue spokesman said it's an ongoing investigation and they have not yet determined whether or not foul play was involved.
Firefighters are expected to remain on scene well into the morning, he added.
No injuries have yet been reported.
Dozens of onlookers flocked to vantage points along Water Street and on the Marina Park overpass, shooting video and taking photographs.
Police quickly cleared most of the onlookers from the area and blocked off the roadway – though many remained on scene.
Great West Timber, through Buchanan, filed for bankruptcy protection four years ago, listing debts of $31 million and assets of just $8 million. When it closed the company employed 175 workers.