THUNDER BAY – Two more First Nations have been added to the $1.3-billion Wataynikaneyap Power initiative that will electrify more than a third of Ontario's remote communities.

The 20-First Nation partnership that owns 51 per cent of Watay Power grew to 22 on Thursday as it welcomed newcomers Pikangikum and Lac Des Mille Lacs First Nations in a ceremony at the Victoria Inn.

The announcement came six days after Ontario chose the consortium to construct power lines across 1,800 kilometres that will now connect 18 remote First Nations to the provincial grid by 2024 and will mark the beginning of the end for the diesel era.

"First Nations in numbers have been working together and have provided that support to improve the living conditions, to improve the lives of our people, to ensure their livelihoods, their shelter, their food, their housing – is addressed," said Watay Power chairwoman Margaret Kenequanash.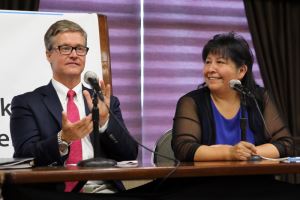 "That's the gist of this project. That's why we're doing what we're doing. By doing it together, we're able to move forward. By having one voice, one support, it's the strength of our project."

The first phase of construction between 2018 and 2020 will increase energy capacity between Ignace and Pickle Lake, including new lines that will pass through Lac Des Mille Lacs' traditional territory.

The population of Lac Des Mille Lacs near Upsala was displaced in the 1950s and its 600 members are in the planning stages of re-settlement. Conversations between Chief Judy White Cloud and the consortium began with the project's conception eight years ago.

"I believe the creator's hand is in this. I believe this project will go forward for our people," White Cloud said.

"We all want the same things, the same goals: better lives for our children and our grandchildren to come."

Pikangikum is a remote community of over 3,000 people, northwest of Red Lake. It suffers residential brownouts and economic development has been hampered due to a lack of energy.

Watay's leadership is examining options to expedite energy transmission to Pikangikum, hoping it can build lines to the community in the first phase of construction.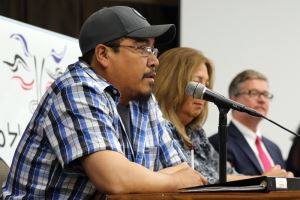 "We are in dire need of reliable energy to move our community forward in terms of infrastructure. We are a First Nation trying to get by on old diesel generators for electricity – dirty, polluting diesel generators," Pikangikum Chief Dean Owen said.

"I'm very optimistic that by joining this group, this is the route to go. Our First Nation and advice of our elders find Wataynikaneyap is a survival option to make this happen, to be connected to a reliable source of energy."

Watay Power is now submitting an application to the Ontario Energy Board that could fast-track it through the process that demonstrates need.

Kenequanash said financial framework conversations with senior levels of government have been underway for over two years. She's confident the high cost of transporting diesel into the remote north over the long term will be a persuasive incentive that will lead the Crown to commit to electric transmission.

"If they're not a willing partner, it's a time bomb coming in their faces with regard to the capacity each First Nation is at with their diesel generators," she said.
"No matter how you cut the piece of the pie, the situation is that these communities are in desperate need of this clean energy."