THUNDER BAY -- A product developed from pulp waste in a state-of-the-art Lakehead University laboratory will form the base of a new five-year research initiative.

The Northern Ontario Heritage Fund Corporation has granted $814,000 to establish a Lakehead Industrial Research Chair position in Green Chemicals and Processes, a public-private partnership that will create 16 jobs and promises to temper the impacts of mining tailings on the environment.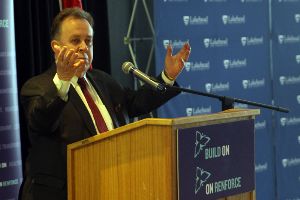 "Within our ministry, we believe the future of the mining sector -- the future of the northern economy -- is going to be through innovation in a very strong way," said Minister of Northern Development and Mines Michael Gravelle.

"We have many opportunities particularly in the resource sector to find ways to do things that are greener, cleaner and in a more efficient way. Ultimately, this creates jobs."

Since 2011, chemical engineering associate professor Pedram Fatehi has been leading the research. Tests his team has conducted on wood waste as a greening agent for mine tailings have shown their product outperforms existing environmental solutions.

"This chemical can be used in other sectors like the mining industry and they will be better than the ones that are used now," Fatehi said.

"So, more efficient, more environmentally friendly chemicals. We would see a reduction in carbon footprint and more efficient processes."

The research could have direct implications for tailings at the Musselwhite Mine. Goldcorp surface operations manager Nuri Hmidi has been engaged with Fatehi's work since the beginning and is looking not only to implement the product at Musselwhite once it's commercialized but to expand it to Goldcorp's Red Lake site.

"The tailings, usually there's some product that comes in acidic form," Hmidi said.
"We're trying to improve that by having this product, that will eliminate the acid mine drainage or the most unwanted elements in the tailings."

Northwestern Ontario's largest mining company won't be alone in benefiting from research the new department will perform. Forestry research group FP Innovations and Resolute Forest Products will also serve as corporate partners who will be providing undisclosed but "significant" investments toward science in the public interest.

Kirsten Maki is the associate research leader of FP Innovations' bio-economy sector. Her office has funded and overseen a post-doctoral candidate on Fatehi's team.

Byproducts of pulp production at Resolute's Thunder Bay Mill are already being used to fuel biomass energy production but Maki is looking forward to further researching the adhesive potential of lignin.

"When you chemically cook wood to pulp it, lignin is one of the components that comes out so it has a fuel value to it. The cellulose is obviously what goes to the papermaking process but the lignin has a value as a chemical with a lot of different applications," she said.