THUNDER BAY -- Despite ice delays, the city's port authority saw a surge in grain shipments last year that resulted in the largest cargo volume to move through the port in nearly 20 years.

The Thunder Bay Port Authority highlighted the banner year they had in 2014 at their 16th annual general meeting Thursday at the Victoria Inn and CEO Tim Heney said they have been feeling the impact of several changes from the last few years, mainly the sale of the Canadian Wheat Board and a larger harvest on the prairies.

"Last year was a record year, 2014, for the port authority itself and it was the most grain shipped since 1997 through the port. We've seen some dramatic improvements in port activity," said Heney.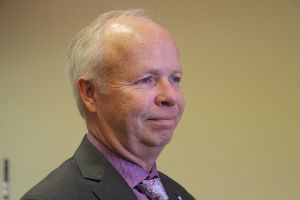 Grain volumes alone rose to 8.3 million metric tonnes, a 43 per cent increase over the five-year average, and the port also received the most vessel calls since 2002.

There were 308 domestic ships that visited the port, up from 250 in 2013, and there were visits from 127 foreign vessels, up from 77 in 2013.

Heney said record steel imports from the U.S. accounted for the increase in ocean ships as they would load up on grain for the return trip to Europe.

With 900 direct jobs tied to the port as well as eight terminals, it's important the cargo volume is moved through the terminals, said Heney.

"There is a lot more hiring going on with those terminals, a lot more overtime. It's a sustainability issue just to have that volume going through the port," he said, the economic spinoff has also been seen by the increase in rail activity.

Thunder Bay has the No. 1 grain storage capacity in Canada and is the No. 2 Canadian port on the seaway. With 2014 such a success, Heney said this year also looks to be off to a strong start.

"Shipments are actually, today, somewhat higher than last year. The crop has been planted a lot earlier this year. The weather is a lot different on the prairies so it could lead to an early harvest which means more grain through Thunder Bay before the end of the year," he said.

"It's looking pretty positive for us."