THUNDER BAY – France has bestowed its knighthood on Second World War veteran Lt. George Whitefield (ret.) but the former tank commander modestly responds to the honour saying he was just doing his job.
Whitefield received a medal in a July ceremony along with a letter from French Ambassador, Nicholas Champuis that recognizes the retired soldier as a Knight of the French National Order of the Legion of Honour.

"Through you, France remembers the sacrifice of all of your compatriots who came to liberate French soil," Champuis writes.
"I appreciate it," is the simple response from the 96-year-old decorated vet.

Whitefield's exploits with the Grey and Simcoe Foresters in Nazi-occupied France began Aug. 22, 1944 when he led a line of Allied tanks that landed on Normandy beaches after dark.
Whitefield arrived near the end of the three-month-long invasion that began on D-Day.
"We didn't know where we were going," he recalls.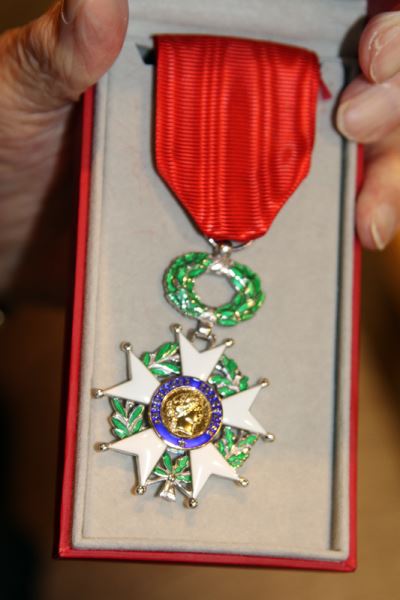 "I was the lead tank, search lights into the dark. We did search lights into the clouds and that's how we knew where the other tanks were. Their lights were reflecting off the clouds. If it turned the other way, you turned the other way."

Whitefield lost his tank six days later. While driving a scout car near Freneuse, a mortar explosion sprayed shrapnel across his arms and nearly blinded him in one of his eyes.

"I wasn't afraid. It was just a job to do," he says. "You don't stop. What are you worried about? That makes things worse."
He returned to his unit in a new tank two days later.

Whitefield and his men rolled north, fighting their German adversaries in the woods all the way through Belgium into Holland.
They seldom left the tank, digging holes below its floor at night to carve out a place to sleep in the summer. In the winter, they'd freeze to the steel.

The condition of Whitefield's eye was worsening. He was transferred to a hospital in Belgium and once released, he continued to serve there among the ranks of the military police.

He was stationed in Quatrecht, Belgium when the news came on Aug. 25, 1944 that the Nazis had surrendered Paris and France would be liberated.

"The population were happy it was all over," he says.

"It was another job done, that's all."

Whitefield returned to Canada a year later, ready to redeploy to the Pacific Force. Nine days after his Aug. 6, 1945 arrival, Imperial Japan surrendered to the Allies.

"It was something that happened. It was essential. It had to be done to stop the action that was killing people," he says of World War II.
"It was to prevent -- a world war to prevent another war."

Whitefield was stationed in North Bay and Toronto after the war serving as military police until he failed the medical examination in November of 1946.

The Lake Superior Scottish Regiment in Thunder Bay offered him a reserve position in the fall of 1953 where he served until his retirement in 1974.

Whitefield never talks about Second World War, just like his father never talked about First World War The glorification of war in particularly American culture, he said, has turned news from the front into a form of entertainment.

That isn't how he or the men he fought alongside talk about war.

"Now, there's more crime and less thought for each other than there was then," he says.

"In the war, everyone was trying to help each other and do things for each other. Now, they shoot them first. Sometimes, I don't think it was worth it. It's something that happened. I had to, and when it was over, then you don't think about it anymore."