THUNDER BAY -- A week-long exhibition drew in hundreds of local artists and residents to explore their visions on the city below the surface.
The Four Lands interactive art exhibition brought life to "lands," expressing the different perspectives people have on the way we live.
"We want to know what people perceive and what's held in their memories, in their knowledge of history or in the imagination," said Toronto-based Jumblies Theatre artistic director Ruth Howard, who facilitated the event.
"The project is about their feeling of the land not just what's there but also the absence or lack or the image people have in their mind."
Participants were asked to artistically illustrate the good land, the bad land, the lost land, and the dream land of Thunder Bay.
Local resident Takwana Nhau spent Sunday afternoon illustrating the upsides and downsides of the land at the Four Lands project closing ceremony.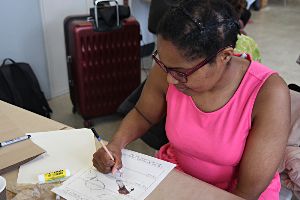 "The project pushed me to think of ideas of why the world looks the way it does," Nhau said.
"My bad land would be that my mind is not allowed to thrive and I think it shows the nature of our world. When people are not allowed to be who they are, they do not thrive."
Nhau said the exhibition pushed her to see how her mind works and she was surprised at how personal she was able to make each drawing.
She added that the dreamland was a difficult concept but it allowed the individual to think deeply about their ideal world.
"I really appreciated seeing the other works of art that illustrated themes that I see in my own life," Nhau said.
"There's one that's talking about street harassment and that's something that's frightening for most women so I appreciated seeing someone visualize something that I experience all the time that I don't always visualize in that way."