Debbie Dada has a lifelong goal of changing the world.
The Grade 11 student from Weston Collegiate Institute in Toronto wants to help reduce the high infant mortality rate in developing countries. Her ambition has brought her to Thunder Bay this week.
Dada is one of 65 high school students from across Canada who is participating in this year's SHAD program, a month-long summer program at Lakehead University that focuses on science, technology, engineering and math.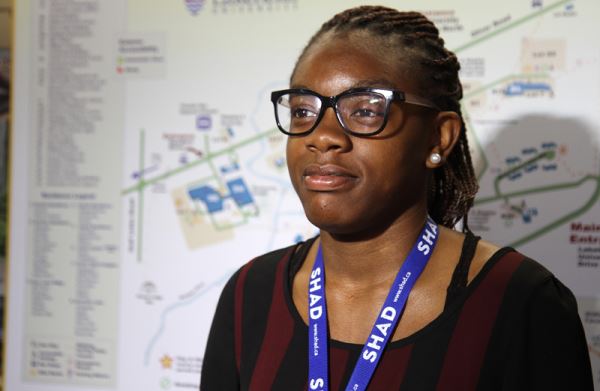 The students will be giving a presentation on a topic of their choice in July as a part of a SHAD activity.
"I'm going to be talking about the Nano patch, a needle free vaccination technology," Dada said Monday during their first official day.
"I'm really interested in the medical field, and I think that this technology has the potential to really change the game for vaccinations."
Dada added that not only does it overcome certain limitations of the regular needle and syringe it provides more cost efficient vaccinations, which is important when providing vaccinations for third world countries or places that can't afford it.
"Death is not a good thing," she said.
"If we have the technology to avoid the countless deaths that we have going on in certain places where it's not any fault of their own –if we have the opportunity to change that I think we should definitely change that."
Dada believes SHAD is a great opportunity to meet with other individuals who want to go above and beyond in the science, technology, and engineering, art and math fields.
She said the program gives the students a chance to work together and collaborate on different projects.
"Lots of people have projects they've been working on or working towards, and I think really great to collaborate with other people – because everybody brings different skillsets to the table."
The SHAD program specializes in science, technology, engineering, art and math and designed for students completing Grade 10, 11 and 12.
SHAD program director Dr. Sultan Siddiqui said this program is about encouraging students to work together and think outside the box to solve problems.
"We make them think, reflect upon who they are and make them discover themselves," Siddiqui said.
"We want them to think critically, creatively so we give them lots of opportunities and expose them to new ideas from the academic people in the university."
Siddiqui added that these students are some of the brightest people in the country and he hopes SHAD will give them a transformational experience.