This week I want to talk about a few places that are worth the drive, not only for the food, but for great value.
Tucked away on the outskirts of town, just out Highway 61, is an amazing little gem. You may have passed it on the way to Duluth and never even given it a second thought, but it is well worth the stop!
AJ's Trading post is awesome. I had the opportunity to stop and have lunch there with a friend the other day and the food was very good and the prices were fantastic.

You might be misled when entering because the inside is nothing fancy, just a few booths and some half booth/half tables surrounded by a few more regular tables.
The place is clean, and the staff is friendly. AJ's also uses local Wolfhead coffee, and they had no problem refilling our cups. There's an on-site store where you can purchase local beef and other homemade items, such as bread and pies.

The restaurant offers breakfast, lunch, and dinner. For those of you looking for some tasty pizza out Highway 61, the pizza was also a great deal. They don't offer delivery, but the pizza is definitely a great value, and if you live out that way, it's close to home.

My friend and I both ordered burgers with fries and onion rings. The fries were fresh-cut and delicious, and we discovered that our hosts are very generous with their portions.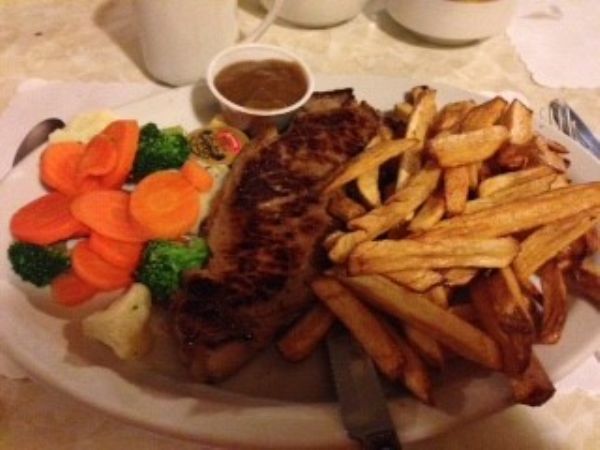 The burgers were made from meat sourced from a local farmer, Dr. Dan Bovine farms. I found that the burger was very filling and yummy. The burger and fry combo also came with a veggie salad (a nice little extra), and priced at $9.00 it was a great lunch spot for a great deal.

Heading towards Kakabeka Falls, you have the chance to stop at another local gem--the Kakabeka Falls Hotel and Restaurant.
The owners, a lovely lady named Marlis and her husband, pride themselves on providing healthy portions at very reasonable prices.
A friend and I went out there a few nights ago for dinner, and we were both pleasantly surprised at the low cost for a full meal.
Their version of a full meal consists of your choice of juice, a soup or salad to start, a main course with bun and butter, and it also includes your choice of coffee or tea, starting at just $17.00. My friend ordered the Liver and Onions and, let me tell you, she took half of her meal home; that's how large the portions were. I had to try the 12 oz. Steak Meal, for $22 and all I can say is: "So much food and so filling!"

The staff was very friendly, and we were offered free refills of our drinks frequently. I have to say that the Kakabeka Hotel offers a great deal on dinners. The daily special that day was two 5 oz. chicken breasts with vegetables and a potato for just $13.95. Their drinks start at $4.00 for an alcoholic beverage.

The inside of the restaurant consists of two sections: one smaller section where the till is located, and the other side where you can find more dining tables.

All in all, if you want a meal that will fill you up, you can't go wrong stopping at either AJ's Trading Post or the Kakabeka Hotel and Restaurant. Next time you decide to go out for a casual lunch or dinner why not take a short drive and check out these two local gems