What is fine dining?
Many members of the Thunder Bay Dining page have expressed what they believe the definition is. But what exactly is truly fine dining?

Years ago, fine dining was classified as any restaurant that featured waiters that served customers at their own tables. Boy have we come a long way since then. Today the definition of fine dining is a little more specific, and in a smaller city like Thunder Bay, it is far more complex.

Most fine dining restaurants require their patrons to follow strict dress codes and feature very high prices on their menus.
In Thunder Bay, you can dine at any of our 'fine dining' locations without really worrying too much about a strict dress codes. Although one may expect most guests to dress up more than usual.

Bistro One, Silver Birch, Caribou, Runway 25, Tomlin, Bight, Giorg and Uptown Cut are good examples of fine dining establishments in Thunder Bay. Each offers guests a unique take on fine dining.

If you are looking for a place that is classy, quiet, sophisticated with impeccable food that never fails, then look no further then Bistro One.


Owner Jean Robillard prides himself on a superb menu that will tickle your taste buds. Their menu offers a fabulous selection of appetizers to help you start your night out right.
If seafood is your pleasure, you can't go wrong with the Sea Scallops in Maple and Champagne Sauce or the Tempura Battered Shrimp. If you're not that into seafood, how about some of the Five Hour Roasted Confit of Ontario Duck Leg, or something a bit simpler, such as the Sweet Potato Gnocchi or Crispy Apple Braised Pork Belly.

Considering that those are just some of the appetizers at Bistro One, you have to check out the amazing menu. Try the Parmesan Crusted Chicken with Lemon, or a fish dish such as Salmon or Arctic Char. They also have more meaty entrees, including Veal, Lamb, Duck, Pork Tenderloin or Filet Mignon.

Inside Bistro One, you will discover not only a perfect setting for a romantic evening, but also one that is quiet enough in which to conduct business. Their service is unbeatable in Thunder Bay. The minute you're finished with your dish, a server will remove it from your table and replace any used silverware.

But let's not forget about Bistro One's amazing accomplishments during their years of operation. I took this right from their website:

Bistro One has made the list of top 200 Restaurants in Canada since 1997, named best hospitality establishment by the Thunder Bay Chamber of Commerce, has won the Eat Smart Award of Excellence by Ontario Healthy Restaurant program and has a triple CAA diamond rating. Bistro One continues to win awards in Wine Spectator Magazine for Award of Excellence given to only select restaurants with a thematic match to the menu in both price and style.

Don't let that high praise scare you away though. Bistro One can be an affordable night out. Their appetizers start as low as $12 and dinners start at $25.
Next time you're looking for an amazing place to dine, why not try out Bistro One Reservations are recommended, and remember, Bistro One is closed on Sundays and Mondays, but opens at 5:00 pm from Tuesday to Saturday.

Caribou is another great example of fine dining in our city. Chef Craig Veira creates new dishes often that the menu changes regularly.
Some of the changes are specials and some are new items added to the menu because they are just that good. Earlier this year, Caribou also started offering a prix fixe menu on Tuesday nights, which for $20.00, includes a Caesar Salad, a Pizza of your choice, and a mini caramel dessert, called a budino.
Caribou also opens for lunch every Thursday and Friday. If you love a great burger, I highly recommend the burger from their lunch menu. Not only is everything on the menu at Caribou fantastic, but the service is also very prompt.

If you're looking for something different, you must try one of the Caribou's fantastic appetizers like the Lamb Scottadita, the Black and Blue Tuna, or their delicious Crab Cakes.
They also have uniquely delicious dinner items such as the Piri Piri Chicken, the Grilled Swordfish, and we can't forget my personal favourite, the Porcini Filet.

Whether you're looking for lunch or dinner, you can't go wrong at the Caribou.
The Caribou another of our great local restaurants that has won many awards since its opening. This is from their website:

Caribou has been listed in "Where to Eat in Canada" for several years running and the wine list has earned the "Wine Spectator Award of Excellence" every year since 2002.

Caribou has been open since November 1999. They pride themselves on their wood oven that they use to craft their amazing pizzas! The menu prices at Caribou start at $2.50 for Foccacia and Hummus, their Pizzas start at $17 and Main Courses start as low as $25.
Don't let the fine dining description scare you off; Caribou, like Bistro One, is very affordable and they welcome everyone to come in and dine with them. Reservations are recommended and Caribou is open seven days a week starting at 5 p.m.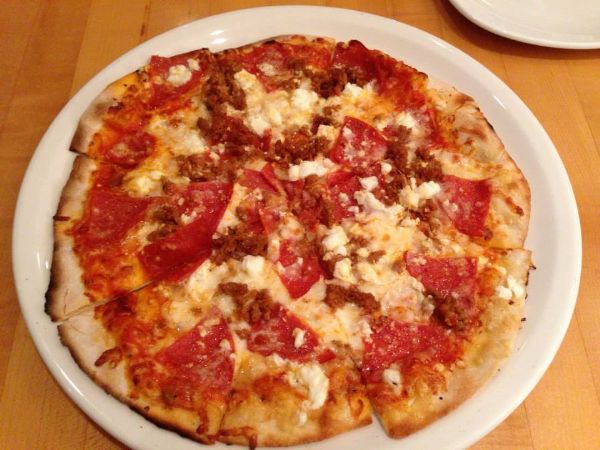 Silver Birch is one of Thunder Bay's newest fine dining establishments. Darlene Green is not only the Owner of the Silver Birch but the Head Chef as well. She has created a northern cuisine menu, specializing in Northern foods such as Fish and Rabbit. The Silver Birch used to be open for lunches, but their catering service was so busy that they had to close at lunch and they are now open only for dinner service.

Silver Birch's prices are very reasonable, and this makes it a great place to go for a night on the town. Their salads start at $10, appetizers as low as $10, and their main entrees start as low as $18.
Their Boreal Salad is a crowd favourite, featuring organic greens, dried cranberries, cinnamon roasted pumpkin seeds and a delicious Blueberry Balsamic vinaigrette. They have many great appetizers to choose from as well, such as the Northern Pickerel Cakes or the Mushroom Tart.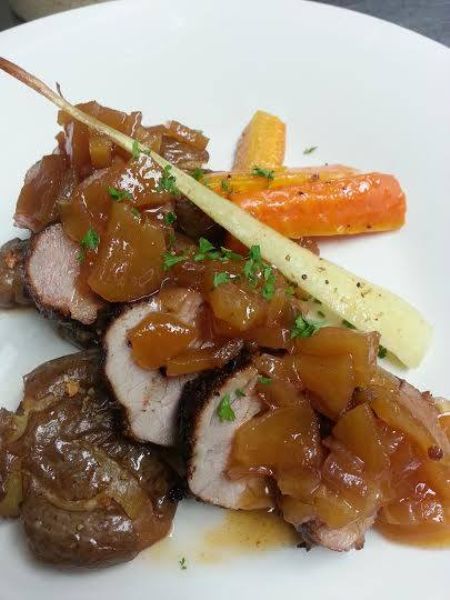 Their main entrees include such mouth-watering items as the Bouillabaisse, which is made with Atlantic lobster, shrimp, catch of the day, and PEI mussels in a tomato fennel broth, served with smoked garlic bread. You could also try the Tarragon Rabbit, which consists of braised rabbit in an herb mustard sauce on a baked Romano gnocchi cake.
The Seasonal Vegetable Fricassee has also become a crowd favourite, although my personal favourite is Darlene's amazing Apple Cider Ribs which are a full rack of slow-roasted baby back ribs with thick apple cider reduction, with sides of double potato frites and cream corn succotash.

No matter what you are looking for, Silver Birch has something for everyone. Their desserts are phenomenal as well. I guess that is because Darlene's life before opening Silver Birch was as a Red Seal Pastry Chef and she catered desserts for over 20 years. My favourite dessert is her Lemon Raspberry Torte, which I see is not on the menu right now, but all of her desserts are fabulous so really, make sure you leave room for dessert!

The Silver Birch was awarded a place in the publication "Where to Eat in Canada" for the second year in a row! Silver Birch is open from Tuesday to Saturday starting at 5:00 pm.
It feels like Runway25 has been around forever, but has it?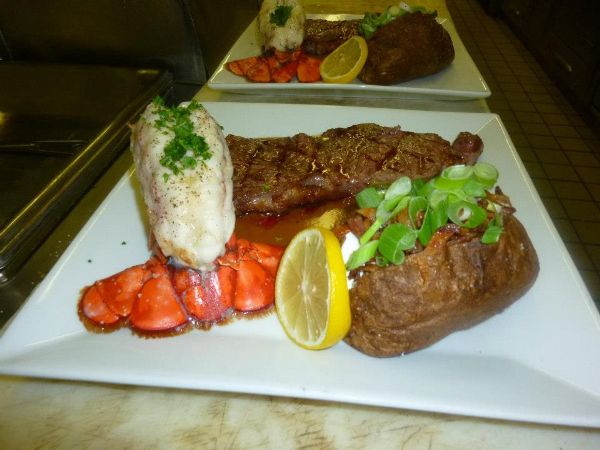 Runway25 has actually swapped out locations with Timbers. As you may recall from a few years back, Timbers had a fire, and Valhalla management moved it temporarily into Runway25's old location in the Nordic Dining Room.

After a while, management decided that Timbers should remain in the Nordic Dining room and Runway25 would be rebuilt in the old Timbers location. Runway 25 now resembles the inside of an airplane, with many aeronautical equipment, tables suspended from cables, and the washrooms resembling an airplane washroom, but of course it's much larger and more comfortable than a standard airplane bathroom.

Along with the physical changes, the head Chef Hebert Krauss retired, and after a brief search, they enlisted Chef Allan Chapman. Chef Chapman has more than 25 years of experience working in professional kitchens throughout Canada, including stints at the Chateau Bromont, Royal York, Chateau Lake Louise, Banff Springs Hotel, Hilton Saint John and, most recently, Dalvay by the Sea.

Chef Allan has redesigned some of the previous menu and added some of his own favourite items to make Runway25 an amazing fine dining destination. The menu boasts appetizers that start at $13.50, including Escargot, Scallops, and Braised Beef.

Their mains start at $15 for vegetarian dishes and other main dishes start at just $19, making Runway25 a very affordable fine dining location. So if you have or even if you haven't yet been to Runway25, now is the time! Their new look and new chef make for a great evening! Runway25 opens at 5 p.m. daily.

In my next column, I will finish up with the other fine dining restaurants in Thunder Bay, including Tomlin, Bight, Giorg, and Uptown Cut. Until then, get out there and enjoy Thunder Bay's amazing dining!

Find otu more about Thunder Bay Dining on Facebook
Find more from the DIning Lady on this website.