THUNDER BAY – Patty Hajdu is riding the red tide to the nation's capital.
The long-time advocate for the city's homeless and first-time Liberal candidate won a landslide victory over NDP runner-up Andrew Foulds and incumbent Green Party MP Bruce Hyer, easily retaking Thunder Bay-Superior North for a Liberal Party that surged to victory under Justin Trudeau with a majority mandate.

"I think what it demonstrates to me is that Canadians are responding to a positive, optimistic vision for Canada," said Hajdu, who captured 45.1 per cent of the vote, with 207 of 209 polls reporting on Monday night.
Foulds was more than 9,000 votes back in second with a 23.2 per cent share, with Conservative Richard Harvey third at 17.4 per cent and Hyer in fourth at 13.7 per cent.

"I was surprised, quite frankly, by the majority. I think all of us were. Maybe there were some other people that weren't. But for me, I just wanted a shot at having a different style of leadership that was based on optimism, vision and hope for the future. It's really inspiring for people to return to those roots."

Hajdu was surrounded by supporters at the Prince Arthur Hotel, where a roar erupted as local and national news outlets declared her the winner.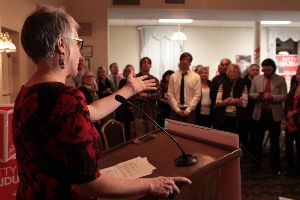 The mood was more somber at Foulds' headquarters.

After thanking his campaign team, Foulds said he ran on substance and thinks he can hold his head high despite the devastating loss.

"Of course we're disappointed. Not only are we disappointed with what happened here locally, we're also disappointed with what's happening nationally," said Foulds, whose party went from official Opposition to third-party status, winning just 40 seats, down from the 95 they held at Parliament's dissolution.

"But we're not going anywhere. There are things worth fighting for," said Foulds, who plans to return to his job as a high school teacher and to represent Current River on Thunder Bay's city council – not ruling out a future run at either the provincial or federal level.
Foulds also lost the provincial election in 2014.

Harvey, the mayor of Nipigon, also expressed disappointment.

"It was a surprise. There were some indications that things might be going in this direction, but the enormity of what happened, we weren't anticipating," said Harvey, who added he plans to take a few days to decide his future, including whether or not to return to his mayoral duties.

Hyer, who said he likes what Trudeau has to offer, also believed that people were so desperate to get rid of outgoing prime minister Stephen Harper that they voted to get rid of what they feared, rather than voting for what they wanted.

"I think an increasing number of people do believe in the Green message, but until we change our voting system, it's going to be very hard for a small party to get in.

Hyer said there's no doubt that switching from the NDP to the Greens during the most recent Parliament hurt his re-election chances.

"If I'd stayed with the NDP I would have had a good chance of winning tonight. The Liberals made very enticing offers for me to run Liberal and if I'd done that here in a Liberal town, I'd be drinking champagne tonight and going back to Ottawa."

Independent Robert Skaf earned 0.6 per cent of the vote.
Thunder Bay-Superior North results:
Patty Hajdu, Liberal: 19,969
Andrew Foulds, NDP: 10,339
Richard Harvey, Conservative: 7,775
Bruce Hyer, Green Party: 6,155
Robert Skaf, Independent: 285
209/209 polls reporting