The sheer range of PCL Construction's mining expertise is impressive.
Through a number of projects in the local mining industry in Northern Ontario, they have been recently showcasing their well-known capabilities and experience. Several staff members certainly have a wealth of mining and industrial expertise, including Project Manager Isaac Alkhoury and Superintendent Paul Kamerads.
In particular, the company has developed an excellent working relationship with the Glencore Sudbury Integrated Nickel Operations (Sudbury INO) team through the execution of five projects at their Sudbury Smelter. PCL takes ownership of all work activities, including subcontractors' undertakings, with respect to safety, quality, budget, and schedule, which allows more time for client site contact persons to manage other projects on their property. "One of the main reasons we have such a strong rapport is due to the synergies that exist with both companies' safety culture and associated health and safety programs", said Superintendent Paul Kamerads. "Our safety systems run in parallel and there was a seamless transition for PCL to integrate ours to theirs."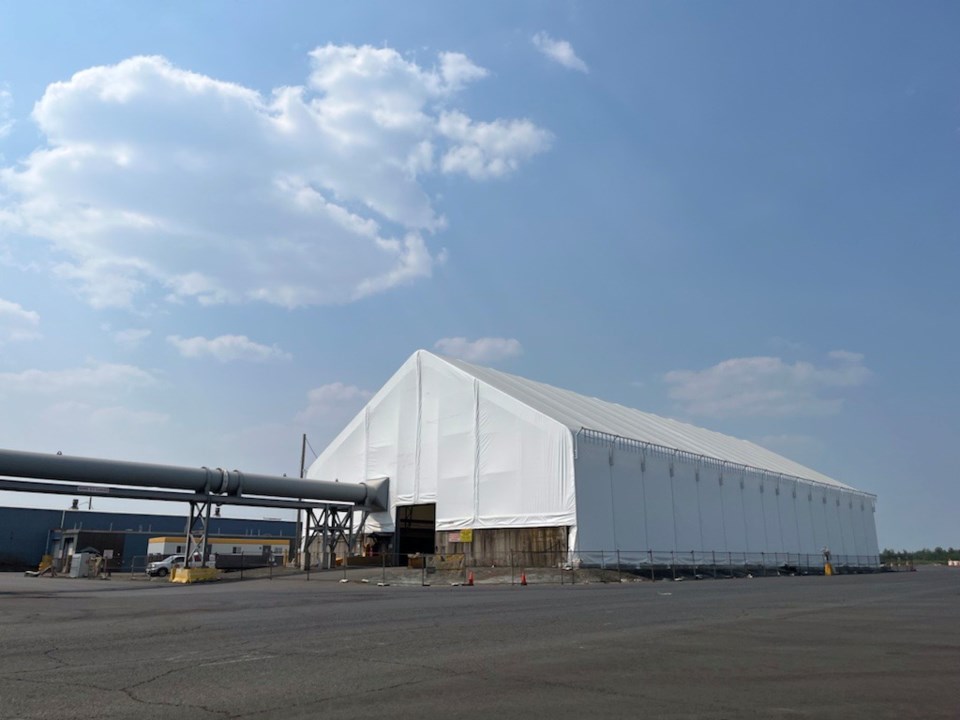 Calciner Fabric Building Replacement/Upgrades
The PCL Northern Ontario team recently completed the Calciner Fabric Building Upgrades at the Sudbury Smelter. After the previous tent structure was damaged in a windstorm, Sudbury INO engaged PCL to demolish the existing fabric building structure, and replace it with a larger, more robust fabric structure. The original scope was to change the 20,000-sf tent structure to a pre-engineered structure. However, after careful analysis, previous experience, and negotiating supplier prices, PCL provided value engineering to offer the alternative tent structure to stay within the client's budget.
The local team executed the forming and pouring of 32 footing pads on top of the existing foundation in preparation for receiving the new tent structure. The crew then installed a heating system and new overhead doors, while working with the client to coordinate the electrical components. The new tent structure was erected this past summer. Although becoming familiar with a new subcontractor and working with concrete in the winter offer unique challenges, the PCL team delivered another successful project.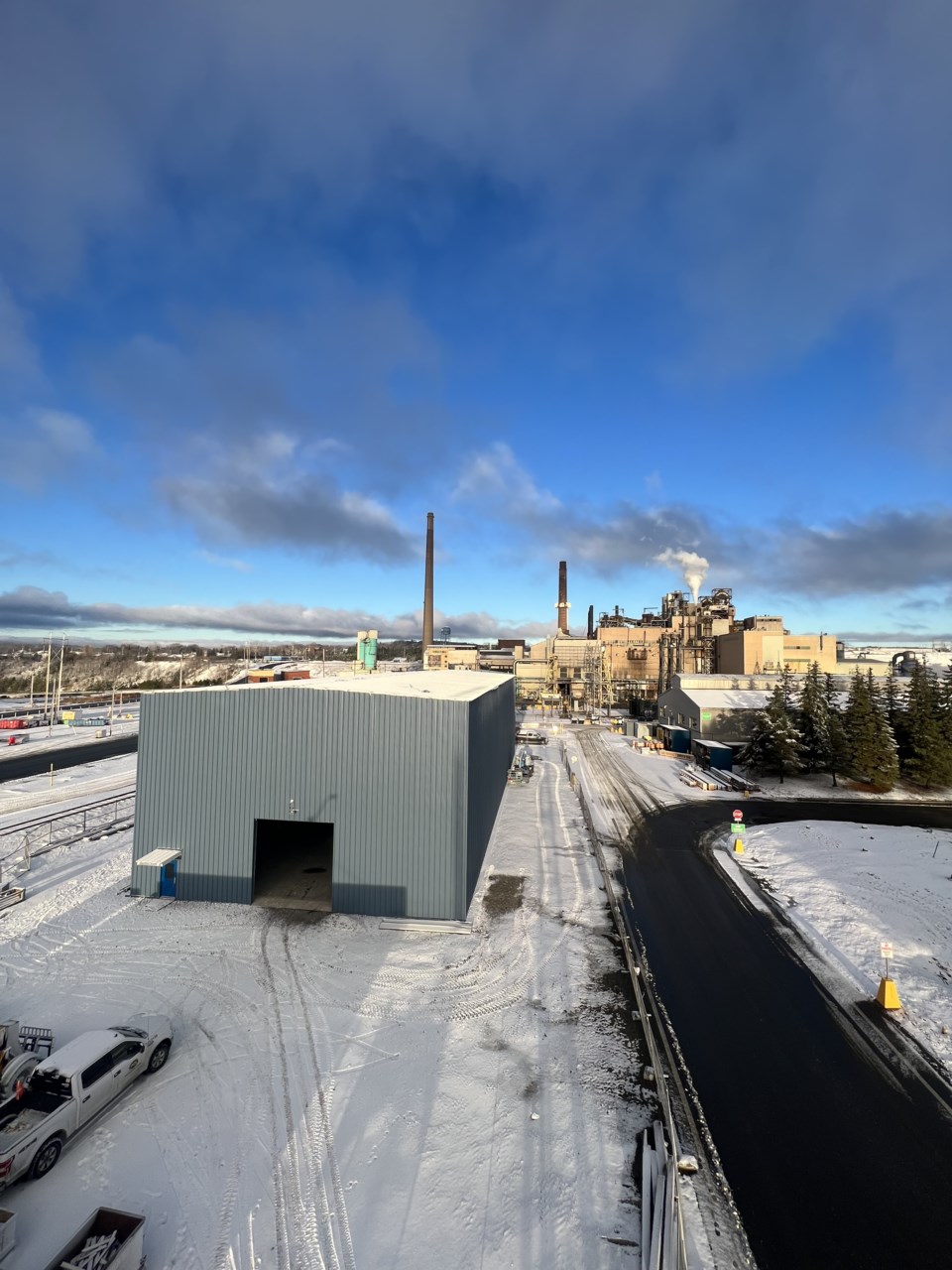 Warehouse Fabric Building Demolition & Replacement
Last year, PCL Northern Ontario was engaged by Sudbury INO to lead the construction of a new 12,000 square foot pre-engineered metal building and perimeter foundations for a new warehouse building. The project included the demolition of the existing fabric warehouse building, excluding the slab.
At the project site, the PCL team was responsible for excavation/backfill and foundations, then erected a pre-engineered steel warehouse complete with siding and the installation of a new overhead door. Through some value engineering and discussion with our supplier and trade partners, PCL was able to lower the cost of the structure by reducing the number of column bays.
This project was located within a heavy traffic area adjacent to rail lines and occupied office space, busy with warehouse deliveries, equipment, and trucks, thus consistent project coordination and scheduling of staff, subtrades, and materials was required to meet timelines and budget obligations. These conditions encouraged the owner to rent offsite storage for material that was housed in the warehouse, and the PCL team worked efficiently so the client could bring the material back as quickly as possible.
Additional scope of work included a firewall to comply with city building codes. The steel and siding installations were risky and challenging jobs as they had to be performed with aerial work platforms. The work also occurred very close to smelter activities, involving heavy equipment and machinery.
Despite these challenges, lessons were learned which led to continuous improvement measures and the strengthening of relationships for all parties involved. The PCL team successfully completed the project on time and on budget.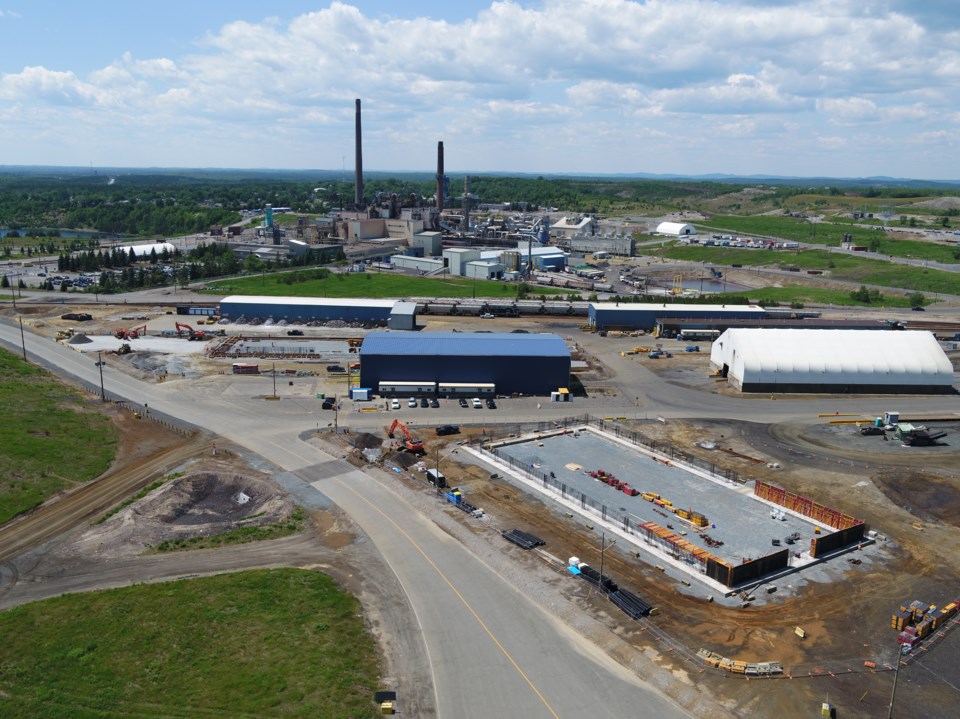 Blending and Bulk Receiving Buildings Foundations and Civil Work & Baghouse System Foundations and Civil Work
In 2020, PCL was awarded the construction of the foundations and civil works for the blending and bulk receiving buildings and the baghouse system. These projects ran simultaneously and included new site drainage, storm sewer, stormwater retaining ponds, excavation backfill, form and place concrete foundations. The foundations for the pre-engineered building were completed ahead of schedule, which eased pressure on Sudbury INO's overall schedule.
Although these were two separate projects, they were executed concurrently. This process required coordinating concrete placement from two different suppliers. Meticulous and onerous quality control measures were implemented during installation of more than 300 anchor rods, which demonstrated superior workmanship as zero rework resulted. Workers had to cross a busy roadway to get to one of the work sites and thus PCL incorporated careful site access planning. A temporary crosswalk and stop sign were erected to facilitate safe access. Additional poured slag was encountered which took additional time to demolish with a hoe ram. To address these inconvenient and unexpected circumstances, PCL applied sophisticated planning skills to successfully coordinate multiple crews on various work fronts.
Process Gas Project: Concentrate Unloading Foundations & Civil Work
2019 marked PCL Northern Ontario's inaugural project with Sudbury INO. The company was employed to self-perform cast-in-place foundations for three structural pre-engineered steel buildings, stack foundations, a trailer unloading ramp, a rail car unloading ramp with suspended slab, and a structural tie-in to an existing building. PCL managed the subcontracted scope which consisted of site grading and drainage, shoring systems, site services, railway system tied into an existing rail yard, structural steel, and miscellaneous metals. The project followed a detailed quality control program.
Being new to the site and client, PCL embraced the challenge of becoming familiar with Sudbury INO's protocols and procedures as well as getting acquainted with the site. Existing poured slag and unforeseen amounts of unsuitable substrate materials caused a slight delay in the schedule as additional time was required for excavation. This same material caused sheet pile driving to be a hurdle. Finally, early onset winter conditions influenced the pouring of concrete. The innovative PCL team managed to address these difficulties effectively and the project was successfully completed. Moreover, the commonalities that existed between both companies' systems, processes, and work ethic, resulted in the creation of a great team that established the foundation of a strong long-term partnership.
Quality and safety are at the forefront
At the start of every project, PCL's quality team sits down with the client's quality team to compare programs. They determine if the company's procedures align with the client's standards or if some adjustments need to be made. These procedures are integrated in every phase, from preconstruction planning to commissioning and start-up.
PCL also looks for similarities in cultures with respect to health and safety. For every scope of work, they use site-specific safety plans from both PCL and the subtrades. They work closely with the client to create customized plans and they coordinate their plans with the client's existing safety plans. Considerations might include how to mitigate major risks, how to keep the public safe, and how to treat hazardous materials, for example.
Solving problems and finding solutions
"As a company, we are not afraid to take on any challenge our clients may present to us," explains Paul Kamerads. The company has access to systems and processes that are designed to suit any construction need. That includes being able to offer virtual design and construction offerings, managing subcontractor engagement, and constantly monitoring and updating the schedule.
They are known for working as one team—for spending extra time discussing all aspects of a project with all the groups involved to achieve and ensure safe and successful execution. They hold weekly progress meetings and conduct regular site visits to monitor the percent complete. This process enables them to react quickly with any challenges that arise. "Open communication is essential," said Anna Frattini, Manager of Business Development & Relationships. "Our client's business is our business, and we are dedicated to doing things right. Together, we'll work collaboratively to leverage innovative opportunities and find solutions to complex problems."
Adding value
With over 10,000 tradespeople working for PCL, their trade resources are extensive. This workforce is supplemented by labour resources of over 52,000 people that have worked with PCL and are available when needed. Whether the project needs five carpenters or 300 concrete workers, the company can staff the project in a manner that is transparent and cost effective.
The company has significant buying power and national agreements with vendors in place. Local resources are always the first choice, but PCL's large network of nationwide partners sometimes provides better pricing for clients and the ability to obtain specialized skills and specific supplies that are unavailable in the immediate area.
Moreover, PCL's systems of project controls and reporting are robust, tested, and compliant to meet various mining reporting and monitoring expectations and needs. With over 100 years of construction history, the company has developed a range of practical, in-person, and cloud-based tools and technologies to help clients and internal teams collaborate efficiently. They can align with any client's internal reporting requirements, reliably collect progress and field data and turn it into usable metrics and indicators.
PCL's expertise and best value lie with large multi-disciplined packages and single scope earthworks/concrete scope projects. The company displays small contractor mentality with respect to client satisfaction and cost savings, combined with the network and systems of a large international company.
Committed to Northern Ontario
PCL Constructors Northern Ontario Inc. offers comprehensive construction services including civil, foundations, buildings, interior renovations, process buildings and process equipment, mine infrastructure, below collar construction, and support and administrative buildings. "Our team can support a wide variety of contract delivery methods and assist with surface construction from start to finish", explains Frattini. "Our team is complimented with expertise in remote and Indigenous communities, and established trade relationships. Our goal is to build a long-term relationship with every client, and we work to become the most trusted construction partner."
The PCL Northern Ontario team brings nearly 40 years' experience in the local market and 116 years' experience of PCL family history. They are based in Sudbury and service all Northern Ontario. Under their mandate to positively affect the places where [they] live, work and play, they are committed to the client and the client's project goals. "In my experience in Sudbury since the office opened in 2019, our regional clients have been very happy to welcome a new player on the block to keep the competition healthy," states Kamerads.
For more information, visit PCL Constructors Northern Ontario Inc. or call 705-995-2225.